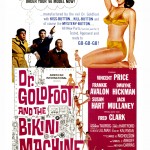 Let's All Go to the Lobby…
Let's All Go to the Lobby…
and Get Ourselves a Drink!
Some films are so bad they're good. Some films benefit from a little liquid encouragement. Some people seek out such entertainment. We are such people, and we're willing to share our discoveries with you.
Please remember to drink responsibly.
"Built part by part in the secret laboratory of the evil Dr. Goldfoot. It is part of a sinister plot to capture the wealth of the world. It has a KISS-BUTTON… a KILL-BUTTON, and a MYSTERY-BUTTON. Press the right button and it'll GO-GO-GO!"
Tonight's Feature:
Dr. Goldfoot and the Bikini Machine(1965)
Produced by American International Pictures and Samuel Z. Arkoff, Dr. Goldfoot and the Bikini Machine is a spoof of popular spy films of its day, most notably the James Bond classic, Goldfinger, released just the year prior. To accomplish this feat, AIP pooled resources from two of its fading lines, the Corman-Poe cycle and beach party films. The result is neither fish nor fowl, but flamboyantly fun.
I purposefully omitted this little romp from our Super Spies of the Swinging Sixties
(1965 Edition) because I knew I would come back to it here. Ain't I a stinker?
Vincent Price
The venerable Vincent Price is the titular Dr. Goldfoot, the mad scientist inventor of the ultimate honey trap. Each of his robotic "bikini machines" is constructed to appeal to a chosen man of power and wealth. The victim is seduced by the sexbot and cajoled into signing his fortune away to the newfound lady love who is programmed to be unquestioningly loyal to the evil doctor. Price was disappointed that the film, originally intended to be a full-on musical, had all of the musical numbers cut. Most of them were utilized to promote the film on a special episode of the ABC musical variety show Shindig!, though, sadly, Price is still left without a song.
Susan Hart
Susan Hart (The Slime People) is Goldfoot's latest creation, Number 11 or "Diane". She has been constructed to target Todd Armstrong (Dwayne Hickman), the nation's wealthiest and most elusive bachelor. Unfortunately, Dr. Goldfoot's resurrected assistant, Igor, blunders and sends her to the wrong victim, who is quickly smitten and not willing to give up so easily.
Frankie Avalon
Beach blanket lothario Frankie Avalon is Craig Gamble, and he's a SIC man. Sick with infatuation over Diane, but also SIC as in Secret Intelligence Command, the "West Coast Division," to be exact. Craig reports to his exasperated Uncle Donald (Fred Clark) and has the unfortunate code number of "Double-Oh and a Half". He's not even allowed to carry a gun as yet, let alone a license to kill. Uncle Donald wants him to turn some red flags (denoting "trouble spots" on the operations map) into blue flags, "happy flags". Unfortunately, his chance encounter with Diane has left him unable to focus on much more than her chassis.
To prepare for your mission, you must first "ante up."
Ante: Any style of martini, shaken not stirred. My personal preference is "very dirty," with a jalapeño-stuffed cannonball olive or two, but the possibilities are practically endless.
Now, once the feature has begun, pick your poison (beer, hard lemonade, etc.).
These are the few simple rules you must obey:
Rule # 1: Drink to each numbered "bikini machine" as they are introduced.
If you have a poor or impaired memory, you are likely to end up taking unnecessary drinks. No risk, no reward.
Rule # 2: Any time someone says "Tchin Tchin" or "Chop chop", drink.
Rule # 3: Drink any time a character climbs into or onto a vehicle.
Rule # 4: Drink any time a character accidentally bumps his or her head.
I recommend a 15-minute intermission about halfway through for smokes, restroom breaks, water (hangover-proofing), snacks, etc. Appropriate snacks include pita chips and hummus, veggies and dip, or cheese and crackers. Basically, go for beach blanket picnic food. In any case, I do NOT recommend drinking additional alcohol during intermission.




Difficulty Level:
Viewers will typically consume 29.5 oz.
(2.5 bottles at 1/2 oz. per drink, 12 oz. per bottle)
of alcoholic beverage if all rules are obeyed.
Running Time: 88 min. (+15 min. intermission)
If you want to check your work or just live vicariously through others, click Diane's
"KISS-BUTTON" below for the official Dr. Goldfoot and the Bikini Machine debriefing scorecard: