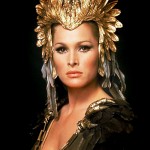 She: A History of Adventure
Sir Henry Rider Haggard's She is one of the best-selling books of all time, having sold 83 million copies by 1965. The story of a lost kingom in the heart of Africa ruled by a mysterious white queen named Ayesha, "She-Who-Must-be-Obeyed," quickly became a classic of imaginative literature and hasn't been out of print since its first publication. After being initially serialized in the British weekly The Graphic, it was first published as a standalone novel in 1887, the same year as Queen Victoria's Golden Jubilee celebrating fifty years of rule.
She has been adapted for the silver screen ten times, the first six in the silent era, starting with a short film by cinema pioneer Georges Méliès. Méliès filmed La colonne de feu (The Pillar of Fire) in 1899. His 1902 short film, Le Voyage dans la lune (A Trip to the Moon) is widely regarded as the first science fiction film. The final silent film version, released in 1925, was the first feature length adaptation and benefited from having its intertitles written by H. Rider Haggard himself. Sadly, he would die later that same year in a London nursing home.
"I suppose as a boy 'She' interested me as much as anything." — J.R.R. Tolkien (The Lord of the Rings)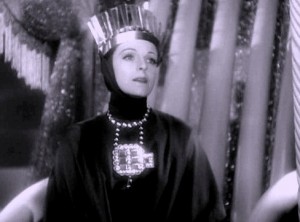 The 1935 adaptation starred Helen Gahagan in the title role. Her lost kingdom was moved from Africa to Arctic Siberia and sported a more
Art Deco/Great Gatsby aesthetic. Produced by Merian C. Cooper, the film was meant to build on the success of King Kong, but RKO budget cuts forced the film into black-and-white rather than color. Gahagan's depiction of "She-Who-Must-Be-Obeyed" was so iconic, that it inspired the look of the Evil Queen in Disney's Snow White and the Seven Dwarfs. It would be her only Hollywood production. She would enter a career in politics and, in her Senate bid against Richard Nixon, would become famous for coining the infamous nickname "Tricky Dick."
"His openings — what story in the world opens better than 'She'? — are full of alluring promise, and his catastrophes triumphantly keep it." — C. S. Lewis (The Lion, the Witch and the Wardrobe)
In 1965, Hammer Films embarked on their most ambitious and expensive project to date, an adaptation of She starring Ursula Andress as the immortal queen. Andress had already secured her Hollywood fame with vampy roles in Dr. No, opposite Elvis in Fun in Acapulco, and alongside Frank Sinatra and Dean Martin in 4 for Texas. The film retains the Victorian setting if not sensibilities of the novel with Peter Cushing leading the expedition to the lost African city of Kuma as Professor Holly.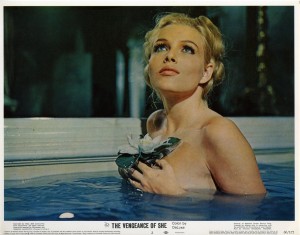 The success of the Hammer venture led to a 1968 sequel, The Vengeance of She. Andress refused to return, so producers went through their Rolodex looking for a replacement, offering the role to model Samantha Jones, Britt Ekland, and Barbara Bouchet in turn. All turned it down, forcing a rewrite to the script and the casting of Czech actress and model Olga Schoberová under the Paramount-provided name Olinka Bérová
("Baby" Bérová). Instead of the unlikely return of the supposedly immortal Ayesha, The Vengeance of She retells and inverts the tale, with Bérová playing a European ingénue being pursued by the ruler of Kuma, Killikrates (played by a returning John Richardson). Killikrates believes Bérová to be a reincarnation of his beloved Ayesha, just as Andress believed Richardson to be her returning Killikrates in the previous film.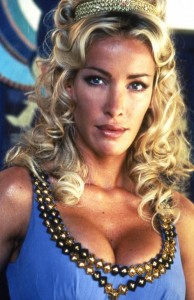 A 2001 straight-to-video version of She largely serves as an obscure vanity vehicle for French singer and actress Ophélie Winter (2001: A Space Travesty).
Ian Duncan (The Mists of Avalon) plays dual roles as Leo Vincey and Kallikrates. Christoph Waltz (Inglourious Basterds) also makes an appearance as Michael Vincey.
Adventure fiction abounds with takes on the white queen amongst the savages, but H. Rider Haggard took a simple concept and used it to transcend its pulp origins, expounding on the nature of civilization, sexuality, and imperialism. The transition of Helen Gahagan from silver screen queen to U.S. Representative is not a coincidence. As gender and race barriers are increasingly broken in the 21st century, it doesn't hurt to take a moment to reflect on our past and the visionaries like Haggard who questioned the status quo.
"And O you whose eyes shall fall upon these pages, see, they have been translated, and they have been printed, and here they lie before you – an undiscovered land wherein you are free to travel!" — H. Rider Haggard, Cleopatra (1889)