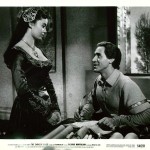 He convinced you that the luxurious Chrysler Cordoba (priced at $5,580) was upholstered in "soft Corinthian leather". As Mr. Roarke, he offered to sell you your fondest wish for a mere $50,000. And as Khan Noonien Singh, he taught you the best way to serve up revenge. But long before all that, way back in the halcyon days of 1954, Ricardo Montalbán showed what it meant to love, lose, endure, and avenge. He was Pietro Donati. He was The Saracen Blade.
This film forms our second entry in The William Castle Blogathon, graciously hosted by The Last Drive In and Goregirl's Dungeon. Directed by William Castle from a screenplay co-written by DeVallon Scott and based on the Frank Yerby novel, The Saracen Blade (1954) was the last of four collaborations between Castle and Scott (along with Conquest of Cochise (1953), Slaves of Babylon (1953), and The Iron Glove (1954)).

Frank Yerby was the first African-American writer to become a millionaire from his work and the first to have a novel purchased by Hollywood for a film adaptation, The Foxes of Harrow (1947) starring Rex Harrison. His painstakingly researched historical romances covered a multitude of time periods. In 1952, the year of The Saracen Blade's publication, Yerby expatriated to Europe, citing the specter of racism as his rationale.
The Saracen Blade is the last of three film adaptations of Yerby's novels, following The Foxes of Harrow (1947) and The Golden Hawk (1952).
Ricardo Montalbán stars as Pietro Donati. Montalbán got his start in acting in 1941 by appearing in dozens of three-minute musicals for the Soundies film jukeboxes, precursors to the modern music video. Arriving in Hollywood in 1943, studios wanted to Americanize his name into "Ricky Martin". With a leading role in the Mexico-themed film noir Border Incident (1949), he became the first Hispanic actor to appear on the front cover of Life magazine. Many of his early roles were as an "Indian" in westerns or as a "Latin Lover", but as Pietro, he gets to show his action/adventure chops.
Pietro's father, the elder Donati, is played by Frank Pulaski. Pulaski served as a liaison between the U.S. Army and the Australian 7th Division during WWII. After the war, he took up acting, playing the tribune Quintus uncredited in The Robe (1953). Changing his name to Guy Prescott after The Saracen Blade, he appeared in another Crusades-era film as an uncredited Arab in King Richard and the Crusaders (1954).

Nelson Leigh had been acting for over a decade before taking on the role of Pietro's mentor and foster father, Isaac. Along with his fair share of adventure films and westerns, Leigh made a career of playing father figures, from Jor-El in the Columbia Pictures Superman serial (1948) to King Arthur in The Adventures of Sir Galahad (1949). He is perhaps best known for playing Mars Mission Commander Dr. Eldon Galbraithe in the sci-fi thriller World Without End (1956).
William Castle regular Michael Ansara once again threatens to steal the show as Count Alesandro Siniscola, Pietro's main antagonist. Ansara appeared in an earlier Frank Yerby adaptation by producer Sam Katzman, The Golden Hawk (1952). The Saracen Blade was the fourth of five films Ansara did with William Castle at the helm. They would part ways soon thereafter with Ansara transitioning from westerns and Biblical epics to television and Castle entering his schlock and shock phase.
Betta St. John, born Betty Jean Striegler, plays Pietro's one true love, Lady Iolanthe Rogliano. As Striegler, she made her film debut at the age of ten, singing in Destry Rides Again (1939). After performing on Broadway in Carousel and South Pacific (part of the original cast in the latter), she appeared in The Robe (1953). She is perhaps best known for her role in the proto-Amicus horror film The City of the Dead (1961) shortly before her retirement.
Carolyn Jones plays her foil, Lady Elaine Siniscola, a far cry from her role as victim-turned-exhibit in House of Wax (1953) the year before. While she makes a fine blonde femme fatale, her striking, batrachian eyes would serve her better as the iconic Morticia on the long-running sitcom The Addams Family. Shortly before her death from cancer, she re-teamed with Montalbán as four different characters on four different episodes of Fantasy Island.
The Saracen Blade (1954)
The year is 1194. In a public square in Iesi, Italy, a crowd waits with bated breath for the birth of Frederick II, Emperor of all Europe. Amongst the onlookers are the blacksmith Donati and his friend Isaac. Isaac explains the dual need for security and transparency to prevent the noble child or his lineage from being compromised.
Bells ring to announce the birth of the Empress' son. Shortly thereafter, Donati's own wife, Maria (Nira Monsour), starts going into labor. Panicked, Donati asks a guard to fetch one of the Empress' midwives. Midwife Gina (Poppy del Vando) besmirches Donati and all other men as useless at such times, calmly escorting Maria away.
After giving birth to Pietro, Maria is stricken with fever. Isaac offers to fetch a man who might be able to help, and Donati insists upon accompanying him. They run afoul of Count Siniscola, called "Count Satan" by Donati in ill-timed mockery. Siniscola, like Isaac earlier but not nearly as gently, takes exception to Donati's newfound pacifism. He claims the blacksmith ended his vassalage early, and the lack of swords cost him in his feud against Baron Rogliano. Siniscola's men take Donati into custody by force.
By the time Isaac returns to Maria, she is already dead. With the father captured by Count Siniscola, Isaac offers to raise the newborn son. While Frederick II sits the throne in Rome, receiving tribute from the distant corners of the Holy Roman Empire, humble Pietro Donati grows up in Sicily.
There, we find him dueling with his friend Afghal. Using a trip to turn the tables on his sparring partner, Pietro defeats him in good humor. Afghal wants Pietro to join the Saracens, but Isaac has raised him as a Christian.
Isaac calls Pietro away from his tomfoolery to tell him about a revolt in Count Siniscola's territory, led by his father. They take a ship to mainland Italy, and we're treated to some poorly integrated siege footage, tinted from the black-and-white Prince of Foxes (1949). The siege, as depicted, takes place at night while Isaac and Pietro talk and look on from horseback in full daylight. Not sure if they planned to film an actual siege here and the budget fell short or if the planned stock footage was switched unexpectedly or if no one gave it that much thought.
The elder Donati has been captured and Isaac immediately considers ransoming his friend. "The arm of Hercules himself cannot help your father now, my boy, but there is still one power on this Earth that can… Gold. Let's pray we put away enough of it."
With the blessing of the Siniscolas (Alesandro and his son Enzio (Rick Jason)) paid for in gold, Pietro approaches the castle to parlay with his father. The rebels reluctantly pull him over the battlements on a rope. Father and son are reunited, and Pietro is eager to fight by his father's side, not discouraged by the notion that they are all doomed men. When he presses the issue, the elder Donati saves his life by knocking him out with one right hook across his glass jaw.
When Pietro awakens outside the castle walls, he finds that the Siniscolas beat him to betrayal and have hanged Isaac (check out Pietro "Tebowing" in Lobby Card 2, below). He overhears Baron Rogliano (Edgar Barrier) and his daughter Iolanthe tut-tutting about the carnage, vowing to see the Siniscolas repaid in kind one day. Pietro begs to join the lord's service, giving his curriculum vitae, but the baron is dubious. "For if you are so gifted, why do you seek service? I should think it would seek you." Based purely on his claims, Iolanthe recommends him.
Pietro proves to be skilled with mace as well as quill, but is visibly smitten with the Lady Iolanthe. While he keeps the records, she flirts with him a bit, questioning his dedication to skill at arms and his thirst for vengeance. "By the stars in heaven, Iolanthe, if you stay I'll forget I hate the Siniscolas for the rest of time I have nothing in my heart but you. Is that what you want me to do?" This is delivered as a run-on sentence, awkward but strangely sincere.
"What's the matter?" she asks.
"With you, nothing, Iolanthe, but I could easily be hanged for this, and you banished to a convent."
She wants to elope with him, but he has made a vow to her father and cannot violate that, not even for her.
The Siniscolas arrive at that very moment to forge an alliance, shocking Pietro. Baron Rogliano sends for Lady Iolanthe, and Pietro urges her to "smile sweetly for your guests." Late that night, Baron Rogliano wakes his daughter to deliver the good news. She is to wed Enzio Siniscola and become a countess. His grandson will be heir to the combined Rogliano and Siniscola holdings. After he leaves, she weeps into her pillow.
The Lady Elaine of Siniscola tries to grill Iolanthe on her true feelings, speaking ill of her own kinsman Enzio. Elaine demands a guided tour of the castle and accuses Iolanthe of hiding Pietro when they stumble upon him hard at work.
"He's a young man, that's always of interest. I wonder why it took us so long to come upon him. The castle records are usually kept by a… a weezened (sic) oldster with a gray beard." She is charmed by his wit and easily detects the sexual tension between him and Iolanthe, but he warns that they should not be so familiar with one about to marry Enzio Siniscola. When he confesses his father was a blacksmith, she loses interest in someone so low-born.
That night, Enzio finds his bride-to-be in the gardens brooding. He kisses her and worries he has offended her. Enzio asks if he has a rival, while Pietro looks on from hiding. When Enzio leaves to fetch her scarf, Pietro asks Iolanthe to elope with him. Enzio returns to find her gone.
The young lovers ride through the night, but Iolanthe's horse eventually tires out. This is the infamous moment when Montalbán bends down and gets his scabbard stuck in the dirt. Castle and company just roll with it. Extra takes cost money. Pietro and Iolanthe give the horses a rest and wander the river bank together.
Pietro grows discouraged. "You will never be the wife of a count, or a baron, or even a knight."
"But I'll be your wife, and I'll be very happy."
"You will go without many things."
"But not without you. We'll starve together. What's it like to starve, Pietro?"
"I have no intention of finding out, even if it's with you."
They are soon found and surrounded by riders led by Enzio. He leaves the decision of Pietro's fate to Iolanthe, but only after they are wed. After said nuptials, Enzio looks in on Pietro's cell. The jailer confirms that only the Lady Iolanthe comes to visit him, every day at the break of dawn. Enzio instructs that the jailer will be asleep when she arrives tomorrow. The jailer fears that she will steal his keys and free the prisoner, but that is just what Enzio is counting on.
Emperor Frederick II (Whitfield Connor) has come to visit, and there's a subtle nod to his legendary falconry skills. Clearly disappointed, he is promised better game for hunting by the Siniscolas. "Cleverer than any stag… faster than even the boar… one seldom hunted." Shrewd though the emperor may be, he has clearly never read "The Most Dangerous Game", but that'll be published about seven hundred years hence, so I suppose I'm expecting too much. Yerby was undoubtedly familiar with the classic short story.
Iolanthe does as anticipated and frees Pietro with the stolen keyes. She implores Pietro to hurry without her, lest she slow him down and he be recaught. Enzio finds Iolanthe closing the cell door and boasts about their upcoming hunt, happy that she has decided his fate as promised.
Pietro flees the hunting hounds through the forest until they tree him like a cat. While they tear his coat to shreds, he drops down and runs away. Coming upon the Lady Elaine, he wades through tall reeds to cross the stream and sneak up behind her, hoping to steal her horse. The riders approach, and he is forced to threaten her with a dagger to insure her silence. Despite her disdain, they quickly get to flirting.
"To think, my cousin Iolanthe has probably given you her lips."
"So? They're her lips…"
"I only wonder how she ever made them clean again."
He kisses her passionately. "Try soap, try perfume, and then try pumice stone and sanding paper. Good day, milady."
He mounts her horse and rides off as she is left to smile guiltily.
With Frederick II approaching, Pietro dismounts to hide in the thick brush. Still, the Emperor nearly spears him. They exchange words, but before things can be sorted out, Pietro kills an attacking boar with the thrown spear, saving the Emperor's life. Pietro tells him the circumstances of his birth and their strange parallel lives. "Born in the same hour? We shall probably die in the same hour…"
Frederick II is impressed with Pietro, but not his thirst for bloody vengeance. With Frederick's inspiration, Pietro asks for Lady Elaine's hand in marriage, an oblique angle from which to launch his plot for revenge. Emperor Frederick II introduces the Siniscolas to a man held in highest regard, soon to be knighted upon his return from the Holy Land and then to inherit the first barony that falls vacant. It is, of course, Pietro, and Frederick savors the look of disgust on the faces of the Siniscolas.
The Siniscolas call a family meeting where Lady Elaine instructs her kin to mind their manners while she, unafraid of Pietro, gets close to him to discover his plot. This backfires when Pietro asks Lady Elaine to marry him, leaving her practically speechless. Frederick II plays matchmaker, and the two men make light sport of Lady Elaine's discomfort. When her cousin, Count Siniscola enters, Frederick is excited to deliver the news, but Lady Iolanthe trails behind, and her disdain wounds Pietro and puts doubt into his plan.
On their wedding night, Elaine is beyond reluctant.
"A kiss is one thing even an Emperor can't make me give you. What, do you have him with you now, dear husband? Is he nearby where you can call on him for help?"
"From now on, I need very little help. Very little…"
He kisses her forcefully, and she pulls him even closer. He lays her down on the bed as she gazes up longingly into his eyes, fluffs her pillow, and leaves, satisfied with his skill at frustrating her expectations. I'm surprised she didn't throw something at him.
Later, she sees him off to the Crusades.
"Crusaders always write home, and their wives always say prayers for the husband's safe return. You too, I'm sure, will say a little prayer each day that… uh, I do not come back?"
"I suppose the next request is that I'm faithful to you while you're gone?"
"You know the kind of man I am. I never ask the impossible of anyone."
The moment he's gone, she cozies up to Alesandro, who acknowledges the church's reluctance to let the two cousins marry. This is our first inkling that there's clearly some history between the two. Enzio walks in on them to tell that he and Alesandro must join Emperor Frederick on his Holy Crusade. Alesandro is not frightened, and sees this as a welcome opportunity.
"What will happen to me, I cannot say, but one thing I can assure you, your Pietro will not return to you."
Elaine is strangely charmed. "This jealousy becomes you, Alesandro." They embrace and kiss.
While Alesandro believes Frederick's decree is Pietro's doing, Frederick tells Pietro he needs the Siniscola's men and that Pietro must confine his fighting to the Saracens. Pietro acquits himself well, and on the field of battle, he saves Emperor Frederick II from a Saracen. He is subsequently knighted for his bravery.
An unnamed prince (Gene Darcy) needs volunteers for a suicidal force to hold the Turks back while the others, including the Emperor escape. Count Siniscola volunteers himself and his son first, then goads Sir Pietro Di Donati into volunteering as well. The prince finds the Siniscolas too elder in knightly service, and they feign disappointment.
"You cannot ask a better death, Sir Pietro, than to die fighting for your emperor and the Holy Sepulchre."
Pietro is defeated by the Turks and taken as a slave. Enraged by a taskmaster whipping a woman, he wrestles the man to the ground. He is immediately confronted by an Arab who questions his concern and shows that the woman, Zenobia (Pamela Duncan), is being punished for the gouges inflicted on his cheek. Pietro mocks Haroun (Leonard Penn), whose pride is as wounded as his face. Haroun offers to let him take the remainder of the whipping in her stead, and he agrees. Afterwards, Zenobia lovingly tends Pietro's wounds.
Pietro's repeated escape attempts, and resultant floggings, tax Haroun's patience. "If I can't get value from you as a slave, at least I'll make an example of you to the others. One more try and you'll be put to death. Twenty lashes don't do any good? Give him thirty!"
Zenobia hopes to buy Pietro's freedom with some jewelry she has acquired (gifts from admirers, perhaps?), but confesses she wants her own freedom as well. Haroun claims her own value highly exceeds that of the Italian. At knife-point, she makes him swear on the Koran (pronounced "Korrin") that they will be allowed to go.
Meanwhile, the church has granted Count Siniscola permission to marry Lady Elaine, but Emperor Frederick II reminds him that in cases of doubt, the wife should wait seven years for her husband to return. He does concede that he has promised Pietro a barony, but that it shall be the Barony of Rogliano, which Alesandro believes belongs to him by Enzio's marriage to Lady Iolanthe. Emperor Frederick II has found question in the lineage of Lady Iolanthe's father, making the barony vacant.
When Count Siniscola returns home, he finds everyone else in ill humor except for Lady Iolanthe. Word has arrived that Baron Pietro of Rogliano is returning home with a Saracen girl. "She wears a veil after the manner of Moslim women." Lady Elaine tries to share her annoyance by taunting Lady Iolanthe about this prize.
On the evening of his return, Pietro is surprised to find Lady Elaine smiling at him. She tries to charm him, but he sees through to her naked avarice after his newly bestowed title and fortune. After Pietro departs, Count Siniscola confronts her, dagger in hand, and demands that she use it to murder her husband, but she believes she could be very happy with Pietro.
"My position as a baron's wife leaves very little to be desired. He has wealth. Ooh, not as great as yours, but very near. He stands high in the Emperor's favor. Those are the cold facts. I see no reason not to face them. Then, consider that he has a certain grace and charm about him, even comparable with yours, cousin. In strength, Pietro is your equal. In age, he's a much younger man, and from my point of view, superior."
Alesandro pulls her close, kisses her, and thrusts the dagger into her heart.
Despite Elaine's flaws, Pietro mourns her loss. He declares war on the Siniscolas. In the heat of battle, Lady Iolanthe warns Pietro that Frederick has decreed that he will pay with his life if he kills the Siniscolas.
Enzio prepares to spear Pietro in the back while he is distracted by Lady Iolanthe's words, but Pietro's loyal retainer Giuseppe (Edward Coch) saves him with a well-aimed crossbow. Count Siniscola quickly descends the battlements to engage Pietro in a final swordfight amidst smoke and flame.
Both men lose their shields in turn, with Alesandro nearly proving too skilled for Pietro. Count Siniscola uses the trip maneuver Pietro demonstrated earlier in the film against his buddy Afghal, but Pietro has a counter, and while on his back, as the Count moves in for the kill, Pietro plunges his sword into his foe's stomach, killing him.
Pietro bravely accepts the punishment for his actions from the Emperor. "Even for you, I cannot make exception in matters of this kind. You must pay for your presumption. Pietro Donati, your lands and titles are hereby taken from you. What was yours when we first saw you, your life, we leave you, but nothing more."
"I'm still rich, sire. I have my life, my love, and your friendship."
Pietro and Lady Iolanthe depart for Venice to start again… together.
The End.

Reviews of
The Saracen Blade
, even contemporary to the film, tend to focus upon its low budget and often misrepresent or misunderstand key plot points. Admittedly, the battle scenes, when not composed of awkwardly inserted stock footage, rarely depict more than a dozen combatants in frame. There is also very little of the sweeping landscapes of Europe or the Holy Land, and the whole production could have been filmed in a good sized backyard. Indeed, the interiors were all shot on several sound stages near downtown Los Angeles.
Still, the costumes are appealing and the dialogue is fun, even if the line deliveries are occasionally specious ("weezened", "Korrin", "Moslim"). None of the actors come across as openly contemptuous of the material, and everyone seems to be giving their best effort. I believe, given a proper budget, Castle and cast could have delivered an adventure classic. Alas, such was not to be, and The Saracen Blade must stand as a footnote to a number of celebrated careers. It's solid B-movie fare, but, at the end of the day, that's an accomplishment in its own right.
Someday, I'll probably check out the other two William Castle/DeVallon Scott collaborations (Conquest of Cochise (1953) and The Iron Glove (1954)). Hopefully, you've enjoyed my humble contributions to The William Castle Blogathon, hosted by The Last Drive In and Goregirl's Dungeon. The Blogathon still has one day left, so be sure to take a look.
Until next time…
"There was no skill to their taking — only overpowering force. He had that feeling again that he had had before: that life was neither good nor pleasant nor worth the living. You started out in blood and stench with the echoes of your mother's dying screams inside of you somewhere so that unrecognized, unremembered, they were there a part of you; then afterwards you were the hunted, always the hunted, running with that tiredness inside of you that was part of death itself, the knowing always in the end that the running was no good because you'd be pulled down — by the big ones, the strong ones, the ones whose world would crash about their heads if they permitted you, the small the wily, the different, to go on living. Or they worried you to death in small and ugly ways: by telling you what seat you might take at a table, by the epithets with which they addressed you, by forbidding you to wear fur or bear a sword or take to wife a girl of different station. Small ways and ugly, but they killed something inside of you — your pride of manhood perhaps your belief in yourself until you became the beast-thing that they were and lit candles and rang bells and ran weeping and howling to prostrate yourself before the unknown and unknowable because you had to have something to cling to against the onrushing dark even if it were only the gibbering ghosts of other men's fears labelled god or saint or holy spirit…." — Frank Yerby, "The Saracen Blade"
Sure, that passage is a wall of text, but it's a POWERFUL wall of text.
EDIT (03/22/15) – Removed broken link to swordfight video clip. Looks like all clips from this film have vanished from the interwebs. I'll keep on the lookout, though. I'd love to have a trailer, if such a thing exists. Got a tip? Please leave a comment. Much appreciated!