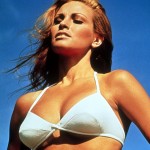 Fathom
The voluptuous Raquel Welch is Fathom Harvill, a dental assistant turned skydiver turned secret agent turned bullfighter, in that order. In a fun little bit of character development, the varied explanations given for her quirky name are "Papa was hoping for a tall son" (six foot, or an imperial "fathom"), "First initials for uncles" (Freddy, Arthur, Tom, Harry, Oscar, Milton), "It's short for Elizabeth", or "As a child, you were very deep". Regardless of WHY she's named Fathom, Miss Harvill is a born adventurer and easily recruited by H.A.D.E.S. (Headquarters Allied Defences, Espionage & Security) to prevent the "Fire Dragon" from falling into the wrong hands. Depending upon who you believe, the MacGuffin is either an atomic trigger or a Ming vase. If you're working that hard to follow the plot, you're missing the point of this film, which is Raquel Welch running around in a bikini for 99 minutes, give or take.
Said plot is based on the second, unpublished Fathom novel by Larry Forrester, Fathom Heavensent. The first, A Girl Called Fathom, was published a year earlier and apparently did well enough to get a screen treatment written by Lorenzo Semple, Jr. (Batman). She is billed as "the ingenious new mistress of suspense" on the Fawcett paperback movie tie-in, but, alas, no more published adventures followed, and copies of the novel are now hard to come by.
Tony Franciosa (A Hatful of Rain, Career) is Peter Merriwether, Fathom's first target, but he quickly becomes a foil and frenemy for the buxom beauty. Clive Revill (Modesty Blaise) hams it up as the true villain of the piece, Sergi Serapkin, and Tom Adams (The Second Best Secret Agent in the Whole Wide World) turns in a cameo appearance as Mike, the Owner of Casa Miguel, bringing together some talent from previous espionage efforts.
My better half has long been a fan of the grenade earring gimmick. Not too likely I'd get her skydiving, however. I'd probably have better luck with bullfighting.

Check out the end of the trailer (2:38). "Toonces, look out!"

Bulldog Drummond in Deadlier Than the Male
I'll admit this one's a bit of a cheat since Hugh "Bulldog" Drummond is an insurance investigator and not a super spy, but Bond creator Ian Fleming cited Drummond as a direct influence on his famed secret agent. Starring in a series of pulp novels and their respective film adaptations from 1920 to 1954, the "Bulldog" stories featured even MORE racism than was typical in the imperial adventure tales of the time. Thankfully, little of that translates to the screen here, but being 1967, sexual innuendo is clearly fair game.
Richard Johnson stars as the two-fisted detective, and was supposedly Bond director Terence Young's first pick for the role of 007. Nigel Green (The Ipcress File) plays Drummond's recurring arch-enemy Carl Peterson. But the real stars of this romp are Elke Sommer and Sylva Koscina as Peterson's bikini assassins Irma and Penelope. The German release obviously knew which side its bread was buttered on by calling the film Heisse Katzen ("Hot Cats"). Steve Carlson, a contract star for Universal at the time, is shoe-horned into the plot as Hugh's hip American nephew, but he also brings Virginia North to the table as his girlfriend Brenda, so I consider it a fair trade.
Richard Johnson reprised the role of "Bulldog" Drummond in Some Girls Do (1969), notable for featuring a female sidekick named "Flicky" (Sydne Rome) and Joanna Lumley as a girlbot. Both films have been released on DVD as a double feature, but that might be too much sexy for most audiences to sit through back-to-back.
Liguria's gonna be the witness to the ultimate test of cerebral fitness.

Johnny Banner in The Fastest Guitar Alive
With its mix of Bond derring-do and western hijinks, The Wild Wild West was riding roughshod over the competition in its time slot. Elvis Presley was crooning his way through the jailhouse, the battlefield, Hawaii, and Las Vegas. It was only natural, then, that someone take Sun Records stablemate Roy Orbison and make him a singing cowboy spy with a tricked-out guitar. Okay, not so much.
I'm thinking Robert Rodriguez owes his entire career to this caper. "Dr. Ludwig Long's Magic Elixir" and "The Chestnut Sisters" seem innocent enough, but, in reality, they are Confederate spies planning on robbing the U.S. Mint in San Francisco. Along with six dance hall girls and his six-string shootin' iron, Roy brings "seven of his brand new songs" to the Old West, including the insipid "Good Time Party" and the obnoxious "Medicine Man, Medicine Man". I guess he don't believe in travellin' light.
The line-up of dancing girls includes Johnny's best girl Sue, played by Joan Freeman (Panic in Year Zero!), Maggie Pierce (Tales of Terror) as Flo, Wilda Taylor (the incomparable "Little Egypt" in Roustabout), Victoria Carroll (How to Stuff a Wild Bikini), Maria Korda, and Poupee Gamin (Journey to the Center of Time). It's hard to concentrate on the lovely ladies, however, with Orbison's beady little eyes staring a hole in your soul as he meanders awkwardly through the musical numbers like a stalking butler, who upon the finger rests</Tool>. Predictably, this would be Orbison's first, last, and only film appearance.
Watch ol' Roy sing seven new songs, doo dah doo dah,
Makes the film feel seven hours long, takes all doo dah day.

Neil Connery as Dr. Neil Connery
in Operation Kid Brother
Sean Connery was James Bond. Neil Connery was a plasterer.
That's where things should have stayed.
For some reason, Producer Dario Sabatello thought it would be wonderful to get Sean Connery's younger brother Neil to play the younger brother of James Bond… except in the movie he'll go by "Dr. Neil Connery", so you know he's Sean's brother, strangely implying that Sean is an actual secret agent. Whatever, it's not Rashomon.
Casting Neil may have been too subtle a move for Sabatello, so he also cribbed a metric butt-ton of Bond background players, including M himself, Bernard Lee, as Commander Cunningham. Lois Maxwell, Bond's secretary Miss Moneypenny, plays… uh… Miss Maxwell. On the bad guy side, we've got Adolfo Celi (Thunderball's Emilio Largo) as Beta and Anthony Dawson (Prof. Dent in Dr. No) as Alpha. Our requisite femme fatale is the capable Daniela Bianchi (From Russia with Love) as the assassin Maya. She has the enviable distinction of being the only woman seduced away from an evil criminal organization by BOTH Connerys.
The film appears in Season 5 of Mystery Science Theater 3000 under the title Operation Double 007. A particular highlight of that episode is the graph showing the career progressions of the Connery boys. I do miss Joel and the 'Bots. Good times, good times.
This trailer features 3 arrows (1 explosive), 1 speargun, 1 garter blowgun(?),
2! ballistic knives, a thrown spear, a flamethrower, and a bludgeoning buoy.
That's "2 much".