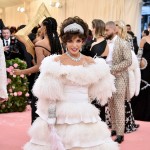 The Bitch on the
Edge of Forever
Joan Henrietta Collins was born on this day in 1933 in Paddington, west London. She made her debut on stage at 9 years old and subsequently attended London's Royal Academy of Dramatic Art. After appearing in a handful of British films, she headed straight for Hollywood and a number of big budget productions, including Howard Hawks' Land of the Pharaohs (1955).
Collins made several iconic appearances on genre television in the 1960s and 70s, notably The Man from U.N.C.L.E. ("The Galatea Affair," in a dual role as an agent of Thrush and the nude night club equestrienne recruited to impersonate her) and Star Trek (as Edith Keeler in Harlan Ellison's wonderful "The City on the Edge of Forever").
Tales from the Crypt (1972)
Though it is certainly the most well known, Tales from the Crypt was not the first of the Amicus anthology horror films. Previous installments were written by a single screenwriter or adapted from short stories in Weird Tales or Unknown. Tales from the Crypt adapts five stories from three different EC Comics titles.
"…And All Through the House" kicks off the film after the wraparound introduction. The tale of yuletide homicide first appeared in The Vault of Horror #35.
(If you haven't already, check out our previous look at this spectacular film.)
Joan plays Joanne Clayton, a woman who coldly and calculatedly murders her heavily-insured husband on Christmas Eve while her young daughter presumably dreams of sugar-plums upstairs. Meanwhile, the usual holiday-themed radio programming is interrupted by a warning that there is a lunatic on the loose. Joanne is too distracted to take note of this obviously important development. She is soon forced to split her time between careful clean up, tending to her restless daughter, gloating over her triumph, and, eventually, dodging a murderous maniac in a Santa suit.
The whole affair moves at a frantic pace, effectively building tension. Joanne clearly can't call for help until her own crime is effectively covered up, and the audience is certainly expected to be conflicted about rooting for her. Oliver MacGreevy is suitably grimy as the not-so-jolly madman.

Tales That Witness Madness (1973)
While also directed by Freddie Francis Tales That Witness Madness was NOT an Amicus production, though it easily fits in with the others of its ilk and era. Instead of adapting stories from EC Comics, the four segments and the wraparound framework were all written by veteran genre actress Jennifer Jayne (Dr. Terror's House of Horrors). Jayne definitely understood the nature of these morbid morality tales and delivers a solid set that are very distinct from one another, serving up a diverse selection of thrills. Sadly, Jennifer Jayne would have only one other screenwriting credit with the delightfully daffy Son of Dracula (1974), under the pseudonym Jay Fairbank.

"Does anybody in here love me?" asks Brian Thompson (Michael Jayston). This is the loaded question that launches "Mel," the third segment in Madness. Brian was out for a morning jog when he literally stumbled upon the love of his life, a strangely buxom hunk of fallen tree. He drags the thing home, much to the chagrin of his coquettish wife, Bella (Joan Collins).
The viewer likely has a better understanding of Bella than her own husband as he deflects her contempt for the newest addition to their stately home. "Your artistic sympathies will leap to the fore, and you'll grow mad about it." Mad, indeed. He does manage to bribe her with cigarettes and chocolate, however, so he's not completely oblivious.
Writer Jennifer Jayne layers more than a little subtext in these opening scenes, and one can't help but wonder if it isn't drawn from personal experience. Brian has designs on bringing "Mel" (so named from the name or initials carved into "her" trunk) into his home, cleaning her up, and making her beautiful. Based on the transactional nature of their interactions, one can imagine this is not too far removed from how Brian once viewed Bella.
Interestingly enough, while Bella is none-too-fond of Mel, it is the tree that shows the first tinges of jealousy, seemingly weeping at displays of what passes for affection between the married couple. Their rivalry steadily escalates, from leaves shed in defiance, to spiky thorns that draw first blood, to an angry splash of what appears to be cognac. Eventually, Bella is left to leverage the only advantage she believes she has, her sexual wiles. "Brian, somebody up here loves you," she teases.
Later that night, Bella is tormented by nightmares of Mel and other flora assaulting her. This scene seems contrived purely so Director Freddie Francis can apply some comic book cinematography in lurid reds and greens, since it otherwise adds nothing to the plot. As the fiendish foliage thrashes Bella out of her baby doll dress, the influence on a young Sam Raimi (and others) seems pretty likely.
The final showdown between Bella and Mel ranks right up there with Alexis Colby and Krystle Carrington, though I don't recall Alexis ever bringing a machete into the proceedings. The resolution of "Mel" is predictable, but macabre fun in a darkly cynical fashion that's appropriate to the genre. It's certainly a chilling indictment of trophy wives as likely only a woman in the film industry could deliver.

Joan would go on to become a household name in America as Alexis Carrington Colby on the wildly popular primetime soap opera
Dynasty
. She also starred in a pair of adaptations of sister Jackie's trashy, nigh-exploitation melodramas starting with
The Stud
(1978), followed by its sequel
The Bitch
(1979). Collins was made a Dame by Queen Elizabeth II in 2015 for her numerous charitable endeavors. She has remained active in film and television, including a recurring role on season 8 of
American Horror Story
.
On stage or screen big and small, Joan Collins has played characters who seduced, schemed, and inspired for more than 70 years. While she has never forsaken her poise, she is not too pretentious to be a horror icon or a schlocky grand dame. Today, WeirdFlix toasts the lovely lady and extend her plenty of "champagne wishes and caviar dreams".