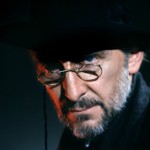 We're back for Day Two of the
Peter Cushing Centennial Blogathon with an overview of Mr. Cushing's later works. After getting the ball rolling at Hammer Films, Cushing starred in a handful of non-horror swashbucklers in the early 1960s. In Sword of Sherwood Forest, he is Robin Hood's perennial nemesis, the Sheriff of Nottingham. He plays the light-hearted legal counsel to the hero of The Hellfire Club (1961) and father to the hero of Fury at Smugglers' Bay (1961). To avoid legal hassles with Disney, Cushing's character in Captain Clegg (1962) (given the more horrific title of Night Creatures in the U.S.) was renamed Parson Blyss, but the film is an adaptation of Doctor Syn just the same. The story hinges on how he relates to the dread Captain Clegg and whether Blyss/Syn is hero or villain, so I won't spoil that here.
Amicus Productions and Portmanteau Horror
Founded by American producers Max Rosenberg and Milton Subotsky but based in Shepperton Studios, England, Amicus Productions made a pair of teenage musicals before they decided to enter the horror market. The two had previously co-produced The City of the Dead (1960) (Horror Hotel in the U.S.) with Christopher Lee. Inspired by Dead of Night (1945), what Subotsky considered "the greatest horror film ever," his scripts for a television series languished until he pulled them together to create his own horror anthology film.
Dr. Terror's House of Horrors (1965) features Peter Cushing in the title role, that of Doctor Schreck, translated as "Dr. Terror" from German. As the doctor himself explains, "An unfortunate misnomer for I am the mildest of men." Dr. Terror serves as the erstwhile host in a framing device, a gimmick used in the controversial EC Comics of the early 1950s. Here, he uses a pack of Tarot cards to read the fates of a number of predictably doomed train passengers.

Of the eight portmanteau horror films that Amicus produced, Cushing appeared in six: Dr. Terror's House of Horrors (1965), Torture Garden (1967), The House That Dripped Blood (1970) (with Christopher Lee), Tales from the Crypt (1972), Asylum (1972), and From Beyond the Grave (1974) (with Peter Cushing again hosting the framing sequence). Cushing also starred in The Uncanny (1977) a non-Amicus anthology where he plays a writer trying to convince the world about the evil of cats through a trio of tales. As someone who is horribly allergic to the fuzzy little buggers, I don't need any convincing.
Cushing sadly turned down a few key horror roles in the 1970s. He was AIP's first choice for Dr. Vesalius in The Abominable Dr. Phibes (1971), the target of the tile character's wrath, but he turned down the role due to his wife's illness. Cushing never did go toe-to-toe with Vincent Price's Abominable Doc, but they did manage to team up in Dr. Phibes Rises Again (1972).
He was also John Carpenter's first choice to play Dr. Loomis in Halloween (1978). His second choice, predictably enough, was Christopher Lee, but both declined the role due to the lackluster budget and negligible pay. Donald Pleasence, Carpenter's third choice, took the role for a meager $20,000.

Star Wars (1977)
Writer/Director George Lucas initially sought Cushing out for the role of space sensei Obi-Wan Kenobi, but decided his features better suited the villainous Grand Moff Tarkin. Tarkin may be the Imperial officer in charge of the Death Star, but the real power behind the throne is the Dark Jedi Master Darth Vader, voiced by James Earl Jones but played with physical presence by David Prowse. Prowse had previously played opposite Cushing as the title monster in Hammer Films' final Frankenstein film, Frankenstein and the Monster from Hell (1974).
Though a towering 6'5″, Christopher Lee only wears a size 11 narrow shoe. Cushing, on the other hand, at just over 6′, has worn a size 12 since his youth. This ended up figuring into the direction of Star Wars, as wardrobe only had size 9 riding boots for Tarkin. They proved so uncomfortable that Cushing was able to convince Lucas to film him almost exclusively from the knees up to hide his soft plimsolls.
"Adored and idolized by young people and by people who go to see a certain kind of movie, I feel he will be fondly remembered for the next 350 years at least." — George Lucas on Peter Cushing
House of the Long Shadows (1983)
Earl Derr Biggers' novel, Seven Keys to Baldpate, had already been adapted to film six times before Michael Armstrong wrote the screenplay to House of the Long Shadows (1983). The film was promoted heavily as the only one to team horror icons John Carradine, Peter Cushing, Christopher Lee, and Vincent Price, though it largely serves as a silly horror comedy vehicle for Desi Arnaz, Jr.

Arnaz plays Kenneth Magee, a writer looking to compose a great Gothic novel in twenty-four hours. Looking for equal parts seclusion and inspiration, he sets up shop in a deserted Welsh manor. He gets plenty of the latter but none of the former as the house is still inhabited. Visitors arrive, murders start, and writing becomes nigh impossible.
The triple twist at the end will inspire more groans than smiles, but it does what it says on the tin, teaming these four horror legends together for the first and last time. Without them, the film would be justifiably forgotten, and certainly wasn't the springboard for Arnaz that anyone hoped, since he went on to star in the ill-fated genre television show Automan later that year.
This was the last time Cushing and Lee worked together, and Cushing would only make a handful of films afterward. In 1989, he was honored (not knighted) as an Officer of the Order of the British Empire. Lee believed it "too little, too late." Cushing passed from prostate cancer in 1994 at the age of 81. He is sorely missed.
Please join us again tomorrow as we'll take a closer look at the birth of Hammer Horror in The Curse of Frankenstein (1957). Even if you're a rabid Cushing fan and have seen the flick a hundred times, give us a chance. We hope to shed some new light on this classic and its treatment of the Baron. Thanks for visiting and we hope to see you again soon!