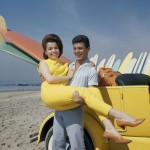 …Frankie Avalon and Annette Funicello took to the beach for the first time together on film.
The initial script for Beach Party (1963) was a tale of typical teens getting into typical trouble, but Director William Asher agreed to helm the film on the condition that it be turned into a more lighthearted musical with trouble free teens. At it's heart, it is a story of three couples, though they don't all start that way. In this respect, it most resembles Shakespearean comedy or commedia all'italiana (the film's initial inspiration). Our feature couple, and the first characters we meet, are Frankie and Dolores (Frankie Avalon and Annette Funicello, respectively, but I hope I didn't need to tell you that).
The single "Venus", released in 1959, became Frankie Avalon's first number-one hit on the Billboard Hot 100 chart, where it spent five weeks at the top and sold over a million copies. His musical success was fleeting, however, and by 1960, he transitioned to bit parts in films such as The Alamo (1960) with John Wayne. His first starring role was in Drums of Africa (1963), just one of many African adventure films using recycled footage from King Solomon's Mines (1950).
By contrast, Annette Funicello was already a star. At age 12, she was personally selected by Walt Disney to be the last of the original "Mouseketeers" for The Mickey Mouse Club television show. Her work for Disney landed her high profile guest spots on both Make Room for Daddy and Zorro in February, 1959. Disney also transitioned her into feature films with supporting roles in The Shaggy Dog (1959) and Babes in Toyland (1961), both alongside Tommy Kirk, her future Pajama Party (1964) co-star. Beach Party was conceived with Funicello in mind, to play opposite teen heartthrob Fabian, but he was under contract to 20th Century Fox.

Being established properties, Bob Cummings and Dorothy Malone actually receive top billing on the promotional materials.
Charles Clarence Robert Orville "Bob" Cummings plays Robert Orville Sutwell. While Sutwell struggles to out-think the waves, Cummings was a surfer by hobby and Sutwell flies a plane later in the film, likely a reference to Cummings' own aviation interests, fostered by his godfather, the pioneer Orville Wright. The first licensed flight instructor in the United States, Cummings was issued certificate #1. He briefly studied aeronautical engineering at the Carnegie Institute of Technology before the Stock Market Crash of 1929 and his family's subsequent financial woes forced him to drop out.
Cummings transitioned into acting primarily because it afforded him a $14 per week salary while studying drama in New York City. He made his Broadway debut in 1931. Because British actors were in demand at the time, he traveled to England and learned to mimic the accent, eventually posing as an Englishman under the name of Blade Stanhope Conway.
After headlining the Ziegfeld Follies alongside Fanny Brice, he moved to Hollywood to begin a film career under the alias of wealthy Texan Bruce Hutchens. From the mid 1950s through 1962, he starred in a self-titled sitcom, first for NBC then CBS.
Dorothy Malone plays Sutwell's assistant Marianne. Malone had been acting for twenty years before appearing in Beach Party. Mostly known for westerns, she took home a Best Supporting Actress Oscar for her portrayal of a spoiled nymphomaniac in Written on the Wind (1956). She's considerably more sedate here, and while playing clearly the most sexually experienced member of the cast, she doesn't don a bikini or surf.
Harvey Lembeck played Harry "Sugar Lips" Shapiro in Billy Wilder's Stalag 17 (1953). His Cpl. Rocco Barbella was right-hand man to Sgt. Bilko, on The Phil Silvers Show and Lembeck kept the role through all 4 seasons. Here, he's leather-clad lout Eric Von Zipper.
Eva Six was already an established property in her native Hungary before appearing here as "Hungarian goulash" Ava. She made her film debut at age ten and was a national folk dance champion by fifteen. In 1956, she fled the new Communist regime with her husband, eventually opening a Hollywood deli where she was encouraged by Frank Sinatra to resume acting.
Six (real name Eva Klein) made just three movies, all released in 1963. After touting her as the hottest new Marilyn Monroe clone, AIP stuck her under a black wig for the surreal Operation Bikini, also with Frankie Avalon. She finished the year in the Rat Pack western, 4 for Texas, but, while stunning, was upstaged by fellow bombshells Ursula Andress and Anita Ekberg. By 1964, she was shilling Wate-On Condensed Food Tablets in magazine ads and disappeared from the scene shortly thereafter.
Beach Party (1963)
Our film begins with aerial photography of the coast which is subsequently revealed to be from a Piper Cub's point of view as it lands on the beach. We then cut to Frankie and Dolores, en route to the beach for some sand, surf, and song, as described in the first musical number, the title tune "Beach Party". Frankie is alarmed to find that their secluded beachside bungalow is inhabited by the entire gang, including "wall-to-wall girls".
After some examples of fun and frolic, we're introduced to Professor Sutwell and his assistant, Marianne. Sutwell is busy surveilling the beach goers for his new book, "The Behavior Pattern of the Young Adult and Its Relation to Primitive Tribes". Marianne has a better title, "Teenage Sex". She openly flirts with the professor, but he is predictably oblivious.
Sutwell's activity would probably constitute a felony today, but it's played here for giggles, and provides an excuse for another musical number, this one by the legendary Dick Dale and the Del-Tones ("Secret Surfin' Spot"). We are party to the professor's eavesdropping, witnessing the confidences of both Dolores and Frankie as they gripe to their respective peers. Frankie comes upon the dubious notion of making Dolores jealous by "putting her down" and making time with Eva at Big Daddy's later that night.
The manager of Big Daddy's, "Cappy" Kaplan (Morey Amsterdam), reads a poem that feels like it was ad libbed on the spot. For all I know, that was part of Amsterdam's gimmick, but it seems suitably beatnik. While Dick Dale and the Del-Tones perform "Swingin' and a-Surfin'", I had to do a double take while Frankie and his boys pass around a joint. I don't think that ever made it to television rebroadcasts. After all the swingin' and shakin', Frankie gets the attention of the waitress Ava and asks her for a dance during her next break.
With a look inspired by Marlon Brando's signature style in The Wild One (1953), Eric Von Zipper arrives at Big Daddy's with his motorcycle gang, the Rats, and their women's auxiliary, the Mice. Not remotely menacing, Zipper's crew are played for laughs, with Zipper himself frequently referring to one or more of his thugs as "you stupid".

"The Samoan puberty dance all over again…"

Recording his observations under his breath, Professor Sutwell arrives overdressed in a suit, bow tie, and Panama hat. A roll of bongo drums and a round of applause bring Ava bouncing down the stairs for her big dance number. As Professor Sutwell describes, "Something's about to uh… hrm."
She spurns a handful of eager young men who try to accompany her, finally selecting Frankie per their prior arrangement. While they gyrate and seemingly defy physics, Frankie sings the catchy little ditty "Don't Stop Now". The song and dance routine seem to have their desired effect on a sour Dolores. Frankie quickly makes his way through a succession of female dance partners, eventually ending up shimmying along with a whole trio of blondes before getting reunited with Ava. It isn't long before the whole joint is jumpin' with the notable exceptions of the bikers and Dolores.
On her way to confront Frankie, Dolores trips and falls into the lap and mitts of Eric Von Zipper. Eric proves difficult to escape until Professor Sutwell politely intervenes. A punch from Eric manages to break Sutwell's tape recorder and very nearly Eric's hand as well. In a display of nerd respect long ahead of its time, Sutwell proceeds to humiliate the biker gang leader with a combination of "complex pressure point and applied force", creating "time suspension", or paralysis.
Sutwell offers to escort Dolores home. While the crowd oohs and aahs at Sutwell's handiwork, Frankie is left fuming about his backfiring plan. Sutwell's description of his research to Dolores sounds like innuendo, but she ends up charmed by his distinguished earnestness. Inexplicably, she name drops (albeit mispronounced) Nobel Peace Prize Winner Doctor Albert Schweitzer as a point of comparison.
In a clever reversal, Frankie and his boys listen in on their conversation from a nearby changing tent. The night ends with Dolores ecstatic for what she clearly believes to be a romantic rendezvous scheduled for noon the next day. Deadhead (Jody McCrea) suggests Frankie grow a beard to get Dolores back. McCrea's simpleton character would prove popular enough to reappear (sometimes under the name "Bonehead") in five more beach party films.
The next day, just as Marianne is about to convince Professor Sutwell to discard his academic distance and enter the wild world of romance, Dolores shows up in a bikini for their date. Her appearance here lays to rest the widely circulated myth that Disney did not permit Funicello to wear a bikini or bare her belly-button. His beachwear is not nearly as flattering, including a fireproof and waterproof kimono that was presented to him by the chief of the Tokyo Fire Department. Dolores tries to get him to refine his look, but only has limited success before Sutwell puts his foot down.
Dolores gives the professor a quick lesson in surfer jargon before they're interrupted by a surfing tutorial from Frankie's boys. Their attempts at embarrassing the old boy eventually backfire. After some calculations (remember to carry the two) and a few learning experiences, he proves to be a natural at "jazzing the glass". In a combination of cultural reference and braggadocio, Sutwell makes an off-hand reference to having swum the Hellespont, a feat first performed by Lord Byron.
After his surfing stint, Sutwell chats with Cappy over at Big Daddy's. He confides that he was the youngest professor at university and grew his beard to avoid being written off as a kid. Now, he's having difficulty recapturing his youth. Frankie storms in and confronts the professor, accusing him of "brainwashing her" with his beard. He proclaims Dolores as his gal and demands that Sutwell steer clear.
Night falls, the bonfire's lit, and it's time for more shakin' and groovin'. Frankie catches up with Dolores, who claims to love "Ol' Pig Bristles" while Frankie only loves Dolores. As they kiss, reconciled, Ava interrupts and reminds Frankie that he said "I love you" to her first. With those three short words, Dolores and Frankie are quits once again.
Dolores heads to her room to pine and consider where she went wrong. "Treat Him Nicely" is her advice to herself, told in song to the mirror and cleverly harmonizing with herself.
Meanwhile, Professor Sutwell foolishly arranges for Marianne to observe and record his interactions with Dolores. She asks him who made his ridiculously elaborate straw hat, "Lilly Daché?" I have to admit I was forced to look that one up.
The boys prank Sutwell by lighting his hat on fire, much to the amusement of everyone except Dolores and the confused professor. She convinces him to shave off his beard to change his look then tells him a story of a "ghost plane" that was spotted landing on the beach. Sutwell takes her to see the "ghost plane", his Piper Cub. Having never flown in a plane, Dolores makes him promise to take her for a ride, but at 3 a.m. when the beach will be otherwise deserted.
Marianne sings along with a recording of Funicello herself singing "Promise Me Anything (Give Me Love)" while listening in. When she hears his exchange with Dolores, she is hurt. Sutwell returns to their bungalow to find a note from her, "I've heard enough." He seems delighted at the prospect of a jealous Marianne.
Eric Von Zipper runs into Ava, angry at Frankie for spurning her advances. They hit it off immediately, but Zipper has to take a rain check as he's set on revenge against Sutwell. He accidentally crawls through Dolores' window and promptly gets battered by her while she howls for help. Sutwell rushes to her rescue. The Rats and Mice flee from "The Finger" as he's now known. Zipper tries to climb back out the window and manages to knock himself dizzy on a surfboard.
Frankie and the gang arrive to see Sutwell consoling Dolores and immediately think the worst. Dolores and Sutwell discuss the incident during their plane ride. He tells her about his stint as a flight instructor for the Army during World War II and the nature of combat aerobatics (both part of Cummings' own background). A demonstration leaves Dolores literally green in the gills.
The next morning, Marianne chastises the professor for getting too close to his research. He cuts off her protests with a series of kisses initially designed to discourage Dolores upon her arrival. He continues his ruse well after Dolores' furious departure.
When Dolores returns home heartbroken, Frankie and his boys set out to take "Father Time" to task. Frankie wants to know if Sutwell has plans to marry Dolores. Seeing the surveillance equipment, Deadhead accuses Sutwell of being a spy. Frankie reads some of the notes and gets to the truth of the situation. This gives Sutwell and Marianne time to flee the scene.
They take refuge at Big Daddy's, where Cappy and Ava are conveniently setting out some cream pies to be served with beer later. Sutwell convinces Dolores to confess that she didn't actually fall in love with him, that she was just spending time with him to make Frankie jealous, much as he was doing with the "Hungarian goulash", Ava. With that sorted out, Eric Von Zipper shows up with his army of leather-clad goons.
Frankie responds with the dubious tactic of "Ring around the rosie, keep professor cosy, we will break your nosey with a rubber hosey." A brawl ensues, breaking chairs and tables, and with the professor employing his paralyzing finger to great effect. When Ava proclaims "My hero" of Eric Von Zipper, Dolores has had enough. Ava is the first victim of a pie to the face, but certainly not the last, including a tour guide and businessman who wander into the fray.
Seeing his "army of stupids" stuck like statues, Eric Von Zipper calls for a "palaver". He wants to learn the Himalayan Time Suspension Technique, and in demonstrating, manages to paralyze himself.
Big Daddy, whose identity has been obscured by his straw hat for the entirety of the film, is finally revealed to be none other than AIP icon Vincent Price! Big Daddy gives them the word, and the word is "The Pit". "Bring me my pendulum, kiddies, I feel like swingin'."
We catch up with the gang around the bonfire and our respective happy couples, even Ava and Eric Von Zipper, who vows to return. And he would, in five subsequent beach party films, seven if you count Dr. Goldfoot and the Bikini Machine (1965) and Fireball 500 (1966). While not beach party films per se, both featured Frankie Avalon and were heavily marketed to the same audience.
Frankie and Annette would team together for nine more films (Muscle Beach Party (1964), Bikini Beach (1964), Pajama Party (1964), Beach Blanket Bingo (1965), Ski Party (1965), How to Stuff a Wild Bikini (1965), Dr. Goldfoot and the Bikini Machine (1965), Fireball 500 (1966), Back to the Beach (1987)), some released mere months apart in summer. In a few instances, one made only a cameo in the other's film.
Beach Party is surprisingly literate, with references to historical figures and some impressive vocabulary. The language of the film is likewise ambitious, boasting an average shot length of 7.1 seconds, comparing favorably with Romeo and Juliet (1968) at 7.2s versus Grease (1978) at 5.85s and That Thing You Do! (1996) at 4.99s. Sure, there's some hokey bluescreening for the surf scenes and broad sound design, but it's still hardly as lowbrow as one would expect.
The end credits finish with energetic go-go dancer Candy Johnson shaking her hips and special thanks to Vincent Price, "soon to be seen in Edgar Allan Poe's Haunted Palace", his next film for AIP, released just over a month later.
Our own special thanks to Aurora's Gin Joint, the Classic Movie Hub, and all of the participants of the Dynamic Duos in Classic Film Blogathon. It sure was a swell time.