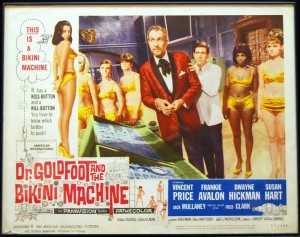 Spoiler Alert!
If you haven't yet watched
Dr. Goldfoot and the Bikini Machine, please do so.
If you want to compete, the full
rules and preview are found HERE.
But, just as a refresher, here are our rules:
Rule # 1: Drink to each numbered robot as they are introduced.
Rule # 2: Any time someone says "Tchin Tchin" or "Chop chop", drink.
Rule # 3: Drink any time a character climbs into or onto a vehicle.
Rule # 4: Drink any time a character accidentally bumps his or her head.
Please remember to drink responsibly.
Okay, so without further ado…
(0:00:30) Dig the claymation credits sequence by Art Clokey, creator of Gumby and Davey and Goliath, with the title song by The Supremes before Diana Ross went solo.
(0:02:25) Nauseous yet?
(0:03:10) One of the famed San Francisco cable cars. (Rule # 3, just once is fine)
(0:03:50) She's got a body that'll stop traffic… literally.
(0:05:27) Shame on you if you didn't see the bullet hole gag coming a mile away.
(0:06:40) And the record for quickest stumble into a honey trap goes to Craig Gamble. Way to stay secret, Secret Agent Man!
(0:07:00) For some reason, her southern belle seduction routine reminds me of Sally Field in Forrest Gump. Creepy.
(0:07:52) Helloooo, gold bikini!
(0:09:49) "Calling Number Eleven…" (Rule # 1, and do try to keep track as we go)
(0:10:28) "I trust you, and you try to takes the advantage!" Harsh.
(0:10:49) No, the Murphy bed does NOT count as a vehicle, heh.
(0:12:38) "Chop chop." (Rule # 2)
(0:12:53) Here they come. Get ready for Numbers One through Nine… (Rule # 1, nine times, heh-heh)
(0:13:54) Checking the tire… Even Susan Hart can't suppress a "cheeky" smile here.
(0:14:17) "Thank heavens you came along, darling. I'm completely flat."
"I wouldn't say that…"
(0:14:45) Number Eleven gets into Todd Armstrong's expensive convertible while doing her best Mae West. (Rule # 3)
Mile Marker: 13 drinks already.
(0:18:10) "It was a rush job, sir. Number Ten's getting her musical education, and she's been assigned to the British composer Sir Benton Bixby Billwater." (Rule # 1, and now we've covered Number One through Number Eleven)
(0:19:11) Ouch, Craig. (Rule # 4)
(0:19:49) "With the whole free world in an uproar, how can you sit in that office mooning over some BABE you picked up in a cafeteria?!" You gotta love Uncle Donald.
(0:20:05) "Your career is the real thing, and you're kicking it right in the pants!"
(0:20:17) Ouch, Uncle Donald. (Rule # 4)
(0:21:15) Ouch again, Uncle Donald! (Rule # 4)
(0:21:42) Ouch, Uncle Donald. (Rule # 4)
(0:21:47) Ouch, Craig. (Rule # 4, the hits keep comin')
(0:22:01) "CONDOR — Presenting Sam & The Apemen — Diane De Marco"
Sam & The Apemen were previously known as "The Flintstones", but had to change their name for obvious reasons. No idea if Diane De Marco ever did anything else, but she certainly makes a mighty fine Wilma.
(0:23:14) "Tchin Tchin." (Rule # 2, twice)
(0:24:07) "Tchin Tchin." (Rule # 2, twice)
(0:25:27) "Tchin Tchin." (Rule # 2, THRICE!) Do you feel like Todd Armstrong yet?
(0:25:57) "Boy?! You."
(0:26:15) Sorry, Igor, that pie-face counts. (Rule # 4) "You have just reached the bottom."
Mile Marker: 23 drinks thus far.
(0:28:00) "Number Twelve. Oh, Igor. This one has got to be something special. It's for that Spanish painter, Pardo Perez." (Rule # 1)
(0:30:31) Nice try, Todd.
(0:32:52) Number Eleven beating the snot out of Craig doesn't count as "accidentally," sorry, but go ahead and drink if you wanna.
(0:33:02) You've really got to "hand" it to Craig.
(0:33:07) That's Dr. Goldfoot getting into his Caddy. (Rule # 3)
(0:35:27) No idea why Inspector Abernathy from Washington sounds as British as spotted dick. I believe this strange notion is continued in Dr. Goldfoot and the Girl Bombs, but I'll be damned if I'll check. That movie's unbearable.
(0:37:32) A mortuary stretcher counts as a vehicle. It's got wheels, right? (Rule # 3)
(0:38:29) "Let's see how Number Twelve turns out, as created by me without your wrrretched interference." (Rule # 1, yeah, again)
(0:38:58) "Get your hands off the merchandise!" HBK?
(0:39:06) "Chop. Chop." (Rule # 2)
(0:39:30) The only black Bikini Machine gets "The South African diamond king, Pierre LaBomba"? That's racist!
(0:42:13) "Chop chop! Chop!" (Rule # 2, drink and a half? Round up.)
(0:42:20) "Chop chop. All that man says is 'Chop chop'." (Rule # 2, twice)
(0:42:23) Ouch, Craig. (Rule # 4)
(0:42:43) I don't really count an elevator as a vehicle.
Mile Marker: 33 drinks thus far.
INTERMISSION
Take a 15-min. breather, you've earned it.
(0:43:05) Ouch, Craig. (Rule # 4)
(0:44:57) "I'm a SIC man." "I'll buy that. Now would you mind getting to the point?"
In Ski Party (1965), earlier the same year, Avalon played Todd Armstrong while Hickman played Craig Gamble. They simply switched names this time round.
(0:45:14) Classic spit-take.
(0:46:49) Put… the candle… back!
(0:48:22) "Helllllo there!"
(0:48:31) Yeah, that champagne bottle's not TOO symbolic, is it now?
(0:50:45) Ouch, Todd. (Rule # 4)
(0:52:06) Ouch, Dr. Goldfoot, and ouch again! That IS a diabolical gimmick… (Rule # 4, twice)
(0:52:24) "I hope he didn't break it." Ouch, Igor. (Rule # 4)
(0:52:44) Ouch, Todd. (Rule # 4)
Mile Marker: Only 39 drinks. Sorry we hit a slow patch here, but at least there's plenty of slapstick to hold us over.
(0:56:29) Igor makes it rain with a bag o'singles, the "proceeds from the sale of Mister Armstrong's securities."
(0:59:01) "So nice of you to drop in."
(0:59:41) Ouch, Todd AND Craig. Curse that portcullis. (Rule # 4, twice)
(0:59:46) Ouch, Todd AND Craig, again. (Rule # 4, twice)
(1:00:06) "This is my machine, my Bikini Machine."
(1:02:00) Ouch, Todd AND Craig. (Rule # 4, twice)
(1:03:17) "Ugh. I must rembember to tell Number Fourteen not to giggle, especially during dinner." (Rule # 1)
(1:05:20) I adore the gallery of Vincent Price paintings from other AIP films. I wonder where those are today?
(1:05:40) Watch that chain, Craig. (Rule # 4)
(1:05:44) "Look around you, gentlemen. It is here where people who defy me change their minds."
Mile Marker: 47 drinks thus far.
(1:06:46) "Why me? Why me all the time?" Harvey Lembeck makes a cameo appearance as perennial AIP beach party biker foil Eric Von Zipper.
(1:08:21) "In case he should prove obstinate, I shall go and prepare the… uh… shall we say, ultimate persuader." Tony Curtis? Roger Moore?
(1:09:30) Ouch, Igor. (Rule # 4)
(1:10:07) "You'll scream for mercy when I show you what I have in store for you now. Take off the dog collar, Igor."
(1:12:03) Check out the recycled footage from The Pit and the Pendulum (1961).
(1:16:13) "That's enough cat and mouse, Doctor. Let 'em have it!" Get ready for the big finish.
(1:16:30) Todd and Craig hop into a convertible. (Rule # 3, twice)
(1:18:00) "What street was that? Forward!"
(1:18:56) "Why do you listen to me when I'm wrong?!"
(1:19:03) Now it's Igor and Dr. Goldfoot's turn to steal a convertible. (Rule # 3, twice)
(1:20:03) Todd and Craig get on the cable car, among others, so let's call it three drinks. (Rule # 3, thrice)
(1:20:53) Todd and Craig share a minibike. (Rule # 3, twice)
(1:21:35) "We'll pay you on the way back!"
(1:22:48) Todd and Craig into the boat. (Rule # 3, twice)
(1:24:04) "You and your secret weapon…"
(1:25:41) "Coffee, tea, or lovin'?"
(1:26:16) "THE END?"
(1:27:59) "Special Hair Styles for Miss Hart by JON PETERS". Yes, THAT Jon Peters, the infamous producer of Wild Wild West (1999).
(1:28:17) The closing credits claim "Annette Funicello"… "Deborah Walley"… "Harvey Lembeck"… "Aron Kincaid"… "soon to be seen in…. "The Girl in the Glass Bikini"". The Girl in the Glass Bikini would eventually be released as The Ghost in the Invisible Bikini (1966) with Boris Karloff and Nancy Sinatra, but without Funicello.
Did you play along? Let me know.
Did you have to take extra drinks? Let me know.
I implore everyone to avoid the sequel, Dr. Goldfoot and the Girl Bombs. I know a collaboration between Vincent Price and director Mario Bava sounds like a genre fan's dream come true, but it's a bonafide nightmare. Largely a vehicle for Italian comedy duo Franco and Ciccio, it's painfully unfunny in a way that no amount of alcohol can improve.
Until next time…
Here's to tall ships,
Here's to small ships,
Here's to all the ships at sea,
But the best ships are friendships,
Here's to you and me!