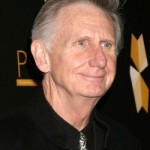 René's Early Work

René Auberjonois was born in New York City on this day in 1940. Despite being a native New Yorker, René was treated as an outsider in school, due in part to his exotic name and having spent part of his early childhood in Paris. Being funny may have begun as a defense mechanism, but the positive attention drew René to the theatre.
While his family lived in an artists' colony in Rockland County, New York, René made the acquaintance of fellow residents and actors Burgess Meredith and John Houseman. After college, René traveled from coast to coast, working with a number of prestigious theatre troupes. In 1968, René made his Broadway debut and secured a Tony Award just one year later.
René's first big break in film came in the form of Robert Altman's comedy M*A*S*H (1970), where he played Father Mulcahy. He would turn down the role in the subsequent television series, choosing instead to focus on a wide range of characters in film and television. In 1976, René played geologist Roy Bagley in the much maligned Dino De Laurentiis remake of King Kong.
Eyes of Laura Mars
In 1978, René took the role of Donald Phelps, agent to the title character in Eyes of Laura Mars. The John Carpenter screenplay was originally purchased by producer Jon Peters as a vehicle for girlfriend Barbra Streisand, but Babs found the material too violent and kinky. She did have a huge hit with the love theme, "Prisoner", which eventually reached #21 on the Hot 100 charts. The title role went to Faye Dunaway, fresh from her Oscar-winning performance in Network.
Laura Mars (Dunaway) is a controversial fashion photographer, famous for mixing sex and violence in her shoots. Just as a coffee table book of her provocative photos is about to be published, Laura has a nightmare in which the editor, Doris Spenser (Meg Mundy), is murdered. The nightmare rattles Laura, not only because of visions of her friend's death, but because it was experienced from the killer's point-of-view and the crime scene closely resembles one of the photographs in her book. As Laura soon discovers, the nightmare was not just a figment of her fevered imagination, but a psychic vision, as Doris was murdered while a sleeping Laura helplessly watched.
Doris is only the beginning, however, and soon the bodies of Laura's female friends and colleagues start piling up, each preceded by another disturbing first-person vision. This would seem to make Laura either the key witness or the killer, but when she explains that she saw a murder take place blocks away, the police grow predictably suspicious.
A quick perusal of her new book by detectives shows visual connections to a number of unsolved murders, creating a sort of chicken/egg scenario. Are her layouts influenced by a psychic link with a serial killer or is the killer influenced by her photos? This forms a recurring "media violence" theme in the film, questioning whether art imitates life or vice-versa, and to what sinister purpose?
As agent Donald Phelps, René is called upon to bring a very nuanced character to the screen. He is very directly linked to Laura on a professional level. Clearly, he cannot afford to stand by and watch her career disappear under a wash of madness and murder. On the other hand, he is a trusted friend and confidant, personally troubled by Laura's plight, which puts him directly in harm's way by proximity. Unless, of course, he's the killer in question, and that's a possibility that René's performance has to convey as well. After all, in a supernatural thriller such as this, everyone is under suspicion, even the title character. Lieutenant John Neville (Tommy Lee Jones) leads the investigation with Laura's driver Tommy (Brad Dourif) and ex-husband Michael (Raúl Juliá) joining Donald on the list of plausible suspects.
Besides, it's not just any actor who can be asked to dress up like Faye Dunaway and be convincing. René is certainly more believable in drag than Willem Dafoe in The Boondock Saints. Don't fret, it's not much of a spoiler. Watch the movie to see the bizarre context for this choice.
Legacy of Laura Mars
Despite mixed reviews, the film nearly tripled its $7 million budget. John Carpenter would go on to write and direct both Halloween and Someone's Watching Me! (for NBC television) in 1978 and find success with both. Director Irvin Kershner's work on Eyes of Laura Mars so impressed former student George Lucas, that Lucas tasked him with directing the sequel to the wildly successful Star Wars (The Empire Strikes Back). Lucas has said of his selection, "I didn't want Empire to turn into just another sequel, another episode in a series of space adventures… I was trying to build something."
Singer-songwriter Tori Amos paid homage to the film on her 2002 concept album, Scarlet's Walk in the song "Gold Dust":
And somewhere Alfie cries
And says, "Enjoy his every smile
You can see in the dark
Through the eyes of Laura Mars"
As the final song on the album, "Gold Dust" capably echoes the reflective melancholy of the film. Life is fleeting and the future uncertain. "How did it go so fast?" indeed.
René's Subsequent Projects
After Eyes of Laura Mars, René Auberjonois settled down for steady television work as prissy chief of staff Clayton Runnymede Endicott III on the political sitcom Benson. He also broke into voice acting with work on saturday morning cartoons including Smurfs, Snorks, SuperFriends, and the Rankin/Bass animated feature The Last Unicorn. Of his performance as The Skull, Last Unicorn author Peter S. Beagle said, "He could have played any role in that movie and I would have been happy… He's that talented."
When René's friend, Nicholas Meyer, took the helm of Star Trek VI: The Undiscovered Country, René was offered a cameo role months before shooting began. The unbilled cameo turned into a key role as Colonel West, a conspirator who attempts to assassinate the Federation President while disguised as a Klingon. Unfortunately, his scenes were cut from theatrical release, but later reinstated for home video and some television broadcasts.
This would not be René's last foray into the "final frontier," however. As the shapeshifting Constable Odo, René was one of the core cast members through the entire run of Star Trek: Deep Space Nine. Executive producer Ira Steven Behr recalls, "I was told six months before the series began that Odo was going to be a Clint Eastwood type, and when we started creating the first couple of episodes, we sent writers off to write Clint Eastwood. And then I was told Rene Auberjonois. And I said, 'Clint Eastwood, Rene Auberjonois? Clint Eastwood, Rene Auberjonois? Does not compute.' And then I saw what he brought to the role, and I had to call up a whole bunch of writers and say 'Guys, I apologize, but this is better than we even imagined.'" René reportedly had doubts as to whether or not he could play the role, but his daughter Tessa had no such concerns. "Oh dad, yeah, this is yours," she said, "you're gonna get this."
Odo carried on a tradition began with Mister Spock and Data as the nonhuman cast member who gives us an outsider's perspective on humanity. It was a role he found "completely challenging and fulfilling. I never thought it would go seven years, frankly. I'm thrilled that it has, but I'm also ready to set sail on some new seas. It's been a wonderful journey."
When DS9 wrapped at the end of the 1990s, Auberjonois continued to play guest parts and do voice work for television before settling into another steady gig as senior partner Paul Lewiston on Boston Legal. While Lewiston often served as the voice of authority on the show rather than as a fully-formed, three-dimensional character, he lent an air of authenticity to the fictional law firm of Crane, Poole & Schmidt. While a main cast member for the first three seasons, Paul Lewiston was reduced to a guest slot for the final two.
Whether as Donald Phelps or in his many other film and television roles, René Auberjonois often brought wit, style, and panache to the screen. We salute him here at WeirdFlix on his birthday. Many thanks and best wishes always.