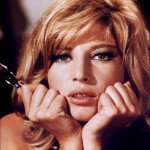 Modesty Blaise
Ever so loosely based on the popular comic strip by Peter O'Donnell, Modesty Blaise is a high camp take on the female super spy. Blaise (Monica Vitti) is a thief and a scoundrel, recruited by British Intelligence to foil a diamond heist.
Unfortunately, Vitti plays the role like some kind of spastic fashion doll with a learning disability. Her exasperated enunciation is eerily reminiscent of Maya Rudolph's impersonation of Donatella Versace on Saturday Night Live ("Get owwt!"). Still, she's certainly easy enough on the eyes and clearly having fun with the material.
Terence Stamp fares better with the sidekick role as Cockney Willie Garvin, but the grim loyalty seen in the strip comes across here as a terminal case of puppy love. Dirk Bogarde hams it up as villainous mastermind Gabriel, owner of the greatest wine glasses ever captured on film and surrounded by a crew of gimmicky henchmen and sychophants.
Despite the goofy gags, there's still enough pulp bravado to entertain. Sheik Abu Tahir (Clive Revill) lays out Modesty's backstory in swaggering expository dialogue and still manages to steal the scene. Modesty Blaise is worth watching just to see Mrs. Fothergill (Rosella Falk) silently strangle a French mime with her legs. Sublime.
And hey, at least it's better than Brooke Shields and Timothy Dalton in Brenda Starr.

"There is a sting in my tail."

Secret Agent Super Dragon
Despite this being his first film adventure, Bryan Cooper (Ray Danton), aka Secret Agent Super Dragon, is lured out of retirement to avenge the murder of a colleague. Star Danton is perhaps best known for carrying off glamorous wife Julie Adams Creature from the Black Lagoon-style after they worked together on The Looters (1955). Unlike most super spies, Super Dragon takes his gadget supplier on the mission with him. Codenamed "Baby Face" (Jess Hahn), the big man largely provides comic relief, pun intended. Super Dragon is recruited into this caper by Cythia Fulton (stunning exploitation film mainstay Margaret Lee), who seems to be keeping close tabs on him by putting in a welcome appearance any time the plot starts to lag.

Our requisite femme fatale is Charity Farrel, played with relish by the sultry Marisa Mell (
Danger: Diabolik
). Charity is so striking in her blue-grey cocktail dress with matching long gloves that the image would appear on the lobby card of the unrelated film
Danger Dimensione Morte
in an effort to make it more appealing. It certainly couldn't hurt.
The voice-over in this trailer totally reminds me of
Stephen Colbert as Harvey Birdman's Phil Ken Sebben

Two 07 in 7 Golden Women Against Two 07
Former Mr. Universe and Mr. Jayne Mansfield, Mickey Hargitay plays Mark Davis, secret agent Two 07. He's on a mission to locate a Nazi treasure hidden in the Mediterranean by Martin Bormann. The location of the treasure is hidden in a Goya painting. The only problem is, seven identical replicas of the painting were sold at auction to seven "beautiful" women, each hoping against hope that theirs is the real McCoy. Cue the obligatory catfights…
Of course, even though the film is titled 7 Golden Women Against Two 07, these eight principals aren't the only ones after the treasure. Leading the pack of also-rans is the writer-director-producer-editor-and-star Vincenzo Cascino as Barbikian. There's no explanation as to why he's painting them gold and the only justification is it looked good on Shirley Eaton.
Warning: NSFW due to a brief glimpse of Goya's The Naked Maja.

Matt Helm in The Silencers
Matt Helm is a counterespionage agent created by novelist Donald Hamilton. Much like James Bond, Helm is much more serious and realistic in his literary adventures than in the over-the-top camp that appears on film. The casting of Rat Pack wise guy Dean Martin just takes The Silencers up to eleven.
With the cover identity of a fashion photographer for "classy" men's magazines such as the curiously titled "Slaymate Magazine" and a house full of gadgets and girls, Matt operates just one shade shy of Austin Powers. In this and the subsequent films in the series, Dean Martin parodies his own flamboyant lifestyle as much as that of the super spies of the era. The film accurately captures one detail from the novels, the fact that Helm has grown soft and is well past his prime. At the time of The Silencers, Dino was nearly fifty years old.
As the clip below clearly demonstrates, Helm is not content to keep to the platonic relationship with his secretary, the "cleverly" named Lovey Kravezit (Beverly Adams), that Bond shares with Moneypenny. In an effort to outperform its competitors, The Silencers abounds with opportunities for Helm to display his machismo. Similar to Secret Agent Super Dragon, Matt is accompanied by an ambitious female agent, in this case, Daliah Lavi (Ten Little Indians) as ICE agent Tina.
The infamous opening credits feature a trio of Vegas-style burlesque strippers in a sequence that would be considered risqué even by today's standards, though rumors of an "uncensored" version of dance legend Cyd Charisse's segment are wishful thinking and fondly misremembered by impressionable young minds. The more raw stills from that routine are outtakes, some of which were used to promote the film, but clearly not the most notorious which could only have been used to market Brazilian wax. Go ahead, Google it. I'll wait.
Even toned down, it's an effective intro that should definitely get your attention. Nancy Kovack (Diary of a Madman) gets exactly 2:32 of screen time as a honey trap dressed solely in high heels and one of Helm's dress shirts (Yes, I timed it). She certainly does make the most of it, though, especially in VHS versions which don't crop the… ahem… bottom of the frame.
Perenniel Playboy Playmate Stella Stevens "rounds out" the cast as the out-of-her-depth femme fatale, Gail Hendricks. She undergoes some of the more controversial interrogation techniques of Mr. Helm (one of the few scenes kept from the novel, though greatly glamorized) that might make some viewers squirm.
I start every Sunday just like Matt, except with more bourbon and less double entendre.