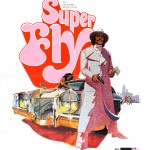 …Youngblood Priest (Ron O'Neal) decided to walk away from the life in Super Fly (1972). While a successful cocaine dealer, Priest has been formulating an exit strategy. He's going to flip thirty kilos of coke in four months and walk away with one million dollars, enough to leave the perils of being a "pusherman" behind forever. Of course, Priest can't do it alone, and with that much money at stake, you can never be sure who you can trust.
Gordon Parks' Shaft (1971) not only showed that blaxploitation films could be profitable, it saved MGM from bankruptcy. Gordon Parks, Jr. followed in his father's footsteps with Super Fly just a year later. Filmed on a budget of only $300,000, it pulled in over $30 million, echoing Priest's big score.

Ron O'Neal stars as the ambitious Youngblood Priest. Ron would return to direct and star in the sequel,
Super Fly T.N.T.
(1973), which takes our "hero" out of Harlem and into the exotic locations of Rome and Africa.
Super Fly T.N.T.
would be released just one day after the similarly themed
Shaft in Africa
, though both struggled to capitalize on the success of their respective franchises.
When we first meet Priest, he is abruptly exiting the bed of his white trophy girlfriend, Cynthia (Polly Niles). He seems to have it all, hot and cold running bitches, a swank pimpmobile, and a wardrobe to die for. Still, he is a man unfulfilled. As he explains to his partner Eddie (Carl Lee), Priest is tired of the trials and tribulations of the cocaine biz.
Eddie is considerably taken aback at Priest so casually dismissing what he considers to be the American Dream. "You gonna give all this up? Eight track stereo… color TV in every room… and can snort a half a piece of dope every day?" Still, loyalty draws Eddie into Priest's scheme to flip thirty keys in four months with a split down the middle so each man walks away with half a cool million.
"Look, I know it's a rotten game, but it's the only one The Man left us to play, and that's the stone cold truth." — Eddie
Their first step in acquiring such volume is to reunite with Priest's old mentor, Scatter (Julius Harris). Priest pulls a reluctant Scatter out of retirement, where he's slumming as a cook in the kitchen of a hip nightclub. This favor will be the last he'll grant to Youngblood, come what may.
Sheila Frazier plays Georgia, Priest's soul sister and confidante. Despite her luxurious attire and furnishings, she would settle for less if it would take the burden of street life off of Priest's shoulders. She is his motivation, the person pushing the "pusherman" to seek a better life for the two of them. She does not judge him, however, as she explains during their bubble bath palaver.
A photo montage of their plan in motion is set to "Pusherman" by The Curtis Mayfield Experience (who performed an abbreviated version of the song earlier in the nightclub scene), and it is clearly ahead of its time. Photographed by Gordon Parks, Sr., the sequence follows the first kilo of cocaine, from weighing to cutting to packaging to distribution to sale into the hands of its end consumers, New Yorkers from all walks of life. The soundtrack, all written and composed by Curtis Mayfield, is one of the few to outgross the film that featured it and became an instant funk classic.
Sig Shore, born in Harlem, produced all three Super Fly films and would direct the third, The Return of Superfly (1990), without O'Neal. Shore would also put in a cameo appearance (billed as "Mike Richards") at the end of this film, taking the role of Deputy Commissioner Reardon. Sadly, The Return of Superfly would be his last film before succumbing to chronic pneumonia at the age of 87.
"Man, people been using me all my life. Yeah, that honky's using me. So what? Y'know, I'm glad he's using me, because I'm gonna make a piss pot full of money, and I'm gonna live like a prince, a ****ing black prince!" — Eddie