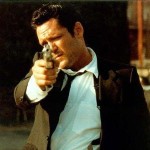 Yep, it's time for another blurring of the edges. While the eponymous gangsters in Quentin Tarantino's Reservoir Dogs (1992) are never referred to as such in the film, they have the same pack mentality as their canine cousins. From the opening scenes to its bullet-riddled finale, writer-director Tarantino's caper gone awry is a study in male bonding and vicious rivalry.
Vying for the position of alpha dog is Vic Vega (Michael Madsen) a.k.a. Mister Blonde. Vic is a career criminal whose loyalty to the Cabot Crime Family goes largely unquestioned. Fresh off a four year prison stretch in which he said not a word about the Cabots, the diamond heist would be Vega's first "real job" back in the free world. Something must have happened to Vic in prison, however, a psychotic break perhaps, because the moment the heist goes pear-shaped, he begins executing hostages with ruthless efficiency, an act that disturbs his fellow criminals and becomes a point of no return for all.
"It's amusing… to me… to torture a cop. You can say anything you want, 'cause I've heard it all before. All you can do is pray for a quick death… which… you ain't gonna get."
— Mr. Blonde
The most infamous Mister Blonde scene is the torture of Marvin Nash (Kirk Baltz), a cop taken hostage to effect Blonde's escape from the robbery gone wrong. Baltz had a handful of screen credits prior to Dogs and appeared in the Tarantino-written Natural Born Killers in a minor role. He has done some work in DC Comics-related projects, including an appearance in The Flash television series, a recurring role on the original Human Target television series starring Rick Springfield, and the distinction of being the only person to play a live-action version of Batman villain Clayface on the sadly short-lived television series Birds of Prey.
An ad-lib by Kirk Baltz during the torture scene reportedly stopped Michael Madsen in his cowboy booted tracks. Filmed only a year or two after the birth of his oldest son, Christian, the sputtering plea "I've got a little kid at home," hit particularly close to home.
But Madsen wasn't the only person put off by the intensity of the scene. During a screening in Barcelona, fifteen people walked out, including iconic horror director Wes Craven and special effects legend Rick Baker. Baker would later tell Tarantino that the heightened realism of the violence unnerved him and that Quentin should take it as a compliment.
"You ever listen to K-Billy's Super Sounds of the Seventies? It's my personal favorite." — Mr. Blonde
With
Reservoir Dogs
, Quentin Tarantino began his trend of using diegetic (source) music effectively and often ironically. In this specific example, Mister Blonde turns on the radio and tunes in K-Billy's Super Sounds of the Seventies. As deadpan DJ Steven Wright explains "Joe Egan and Gerry Rafferty were a duo known as Stealers Wheel when they recorded this Dylanesque pop bubblegum favorite from April of 1974 that reached up to number five as K-Billy's Super Sounds of the Seventies continues."
Released on their self-titled debut album in 1972, "Stuck in the Middle with You" was initially intended to be a parody of Bob Dylan's distinctive style. The "clowns to the left" and "jokers to the right" mentioned in the lyrics refer to a meeting Egan and Rafferty had with record company executives and producers at a restaurant in which they were mere bystanders to the negotations. A series of line-up changes, financial woes for their songwriter/producers, and tension between Egan and Rafferty resulted in Stealers Wheel disintegrating before the 1975 release of their third album. At least, by all reports, it didn't end in a Mexican stand-off.
With this scene, Tarantino changed the way people would perceive the otherwise innocuous song forever. Madsen would return to the Tarantinoverse in Kill Bill (2003-2004) as Budd (Sidewinder), the sole male member of the Deadly Viper Assassination Squad. Only Michael Madsen provided his voice and likeness for the lackluster 2006 video game based on Reservoir Dogs, a dubious distinction.
If you have the stomach, check out the original infamous scene below, and let me know if this little doggie's bite lives up to his bark. Cheers!
Totally NSFW due to language and unbridled cruelty.

"Was that as good for you as it was for me?" — Mr. Blonde
We may no longer be in the literal "Dog Days of Summer", but we're still going to "let the dogs out" two more times as we count down "A Dozen Diabolical Dogs". I hope you'll join us.