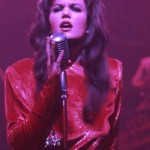 10 Bizarre Movie Musicals
You Have to See to Believe
Part 2 of 3
In our previous installment, we looked at 3 films that tried, unsuccessfully, to cash in on the success of Grease. Well, if you can't bring back the '50s, then you can always pretend like they never ended. That's what Walter Hill did with his "rock & roll fable," Streets of Fire.
7. Streets of Fire (1984)
Another time… Another place… Streets is set in a nebulous dystopian pseudo-1984. Imagine if the entire world were the down-and-out industrial wasteland of a Bruce Springsteen song, perpetually night, neon-lit, wet with rain that never seems to actually fall, in the wake of a war that no one won against a foe no one can identify. It's actually kind of poetic, but Streets isn't really going to delve into any of that.
Instead, we've got a plot straight out of Donkey Kong, where big bad biker Raven Shaddock (Willem Dafoe in his first big break) rides up in his rubber overalls and abducts Pat Benatar avatar Ellen Aim (a smoking hot Diane Lane). Ex-soldier Tom Cody (Michael Paré) is called upon to rescue his ex-girlfriend and sets about climbing ladders and wielding sledgehammers and… seriously, this has NOTHING to do with Mario Brothers.
Michael Paré was fresh from Eddie and the Cruisers, a little slice of 1960s New Jersey cheese that managed to find an audience on HBO that it failed to find in theatres. Following the secret to that film's marginal success, Walter Hill put together a pretty impressive little soundtrack with songs written by Stevie Nicks and Jim Steinman. You've also got early appearances by Amy Madigan, Rick Moranis, Bill Paxton, and Mykelti Williamson.
So where did it all go wrong? Maybe ol' Walt was just ahead of his time. If he'd been patient, he could have found his market with this sort of material, just like such hits as Strange Days and Southland Tales. Or maybe that's too much to ask, even from a fable.
Singers and dancers may be a dime a dozen in Hollywood, but true movie stars are precious commodities. If you want to make a successful movie musical, simply sign yourself a bonafide draw and teach him or her how to sing and dance. Piece of cake, right? If only it were that easy…
6. Paint Your Wagon (1969)
By 1969, Clint Eastwood's cowboy credentials had been practically set in stone. He's already made Sergio Leone's Dollars Trilogy of spaghetti westerns. He'd starred in Hang 'Em High, which managed to be United Artists' biggest opening at that time, eclipsing even the beloved Bond films. Surely someone bought Rawhide's Clint Eastwood Sings Cowboy Favorites on vinyl, because that's the only justification for Eastwood's singing cowboy in Paint Your Wagon.
If Clint's singing is awkward, Lee Marvin is downright sadistic, warbling his way through "Wand'rin' Star." How wretched, then, must Jean Seberg's singing voice be if she's the only one in the trinity of stars to be overdubbed? One shudders to imagine.
The plot's a basic gold rush hootenanny. Marvin plays Ben Rumson, a pragmatic trapper and prospector who finds gold on the grave of a dead man. Said dead man is the brother of "Pardner," played with uncharacteristic naiveté by Eastwood. Jean Seberg's Elizabeth shows up as a Mormon wife auctioned off by her husband to the randy Rumson. It isn't long before she manipulates bawdy Ben into accepting polygamy and adding Pardner as a second husband in a "shocking" gender switch. That love is TOO big.
Just like the film, their little boomtown instead collapses under its own weight. Too bad it takes 164 minutes(!), $20 million, and 14 songs to do so.
5. At Long Last Love (1975)
Cybill Shepherd began her show business career as the pet project of director/producer Peter Bogdanovich, the "Bride of Bogdanovich" if you will. He even produced her debut album, Cybill Does It…To Cole Porter. Poor Cole had already passed, so he had no say in the matter.
At Long Last Love is an ode of sorts to Cole Porter, with sixteen of his classic songs featured in the film. Burt Reynolds was cast as the male lead, no doubt owing to his fancy footwork in Deliverance and The Longest Yard. Unfortunately, here he would be asked to sing.
As if that wasn't a big enough bag of hubris for a filmmaker, Bogdanovich insisted on recording the songs live on film rather than employing lip synch. One can only imagine the number of takes discarded to distill the footage down to the mess that made it to the screen. This repetition is easy to blame for the insufferably stiff choreography.
Bogdanovich would later issue an open letter of apology in newspapers across the country. There would also be claims that the movie is a parody of its source material. If so, then Cole Porter's kinfolk should have tracked down Bogdanovich and made him eat his trademark eyeglasses.
4. Rhinestone (1984)
It's perhaps a bit unfair to put Rhinestone on this list, since it's more comedy than musical and part of the basic premise is the claim that anyone can be transformed into a country music star. Once you add Sylvester Stallone to the equation, however, all bets are off. Sly turned down Romancing the Stone and Beverly Hills Cop to play Dolly Parton's personal Pygmalion. I do have to question whether the move from New York City cab driver to urban cowboy is really a step UP. You bet the judge.
Be sure to come back tomorrow for the third, final, and most unbelievable installment of our little extravaganza.