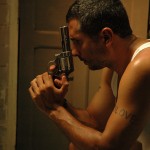 Look out! See what I'm doing here? Not all of these "Diabolical Dogs" are of the canine variety.
Such is the case with Victor Peñaranda (Marlon Moreno). Victor has a serious problem. In an impulsive moment, he stole a bag of cash from his boss Don Pablo. Now, he and Eusebio Benitez (Óscar Borda) are charged with finding the stolen money and dealing with the culprit. Victor just has to keep his cool and let things shake out before skipping town with his wife and daughter.
After all, there's no honor among thieves. It's every man for himself. In the Colombian underworld, it's Perro Come Perro… Dog Eat Dog (2007).
Carlos Moreno made his cinematic debut co-writing and directing this taut little Colombian crime thriller that won the Grand Jury Prize for World Cinema – Dramatic at the 2008 Sundance Film Festival. It's not paced as rapidly as a Tarantino or Guy Ritchie caper, but it held my interest throughout and was an intriguing glimpse into the seedy underbelly of South America.

Victor's choice is the inciting incident that drives the narrative, but Benitez has problems of his own. In circumstances that aren't made clear in the film, he killed the godson of crime boss "El Orejón" ("Big Ears", played broadly by Blas Jaramillo in one of his final roles). Thirsty for vengeance, the superstitious "El Orejón" enlists the aid of a witch named Irish (Paulina Rivas) to put a curse on Benitez, a fate worse than death. He impatiently waits for supernatural results, unaware that the target of his rage works right under his nose, on a quest to find his stolen cash.
Meanwhile, "El Orejón" has gone around Don Pablo and assigned his own minder to the mission. Silvio Sierra (Álvaro Rodríguez) is an obnoxious pragmatist, quick with a nasty joke or bitter observation. Having a racist, a sadist, and a loudmouth like Sierra babysit the two men, each on a rapid downward spiral into his own personal hell, is like throwing gasoline on a campfire. Their travels around town in Sierra's pick-up truck, three abreast with Victor sweating in the center while they hunt for the money that can't be found, is claustrophobic and unnerving.
Still, Victor's not a killer at heart, just a man trying to do right by his family, but his decisions have a bad habit of snowballing out of control. Don Pablo isn't the cruel, vindictive boss that "El Orejón" is, and he even risks his own life to help Victor, even while suspecting Victor is the man with the stolen money that has brought nothing but disaster. The truth, however, would certainly not set Victor free. More likely, it would mean a horrible death for both him and his wife and child. Can he get away with it? Given the widespread collateral damage, should he?
The music video for the title song, "Perro Come Perro" by accomplished Colombian rock band Superlitio, serves as a better glimpse at the film than any trailer I've found. Even if your español is rusty or non-existant, the song is dead catchy and hard to get out of your head once it lodges there like a bit of buckshot.
Carlos Moreno has kept busy with film and television work since
Dog Eat Dog
, but its spiritual successor seems to be his 2011 feature,
All Your Dead Ones
. The plot concerns a peasant who wakes up to find a pile of corpses in the middle of his land. He tries to do the right thing and notify the authorities, but Election Day looms and there's too many bodies to deal with easily. Where did they come from, where will they go? I'm keeping my eyes out for this satirical take on civic responsibility.
Please join us for the rest of these infamous "Dog Days of Summer" as we count down
"A Dozen Diabolical Dogs".