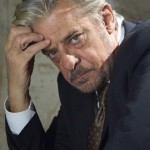 Giancarlo's Early Work
Giancarlo Giannini was born in La Spezia, Liguria, Italy on this day in 1942. At 18, Giancarlo attended Rome's Accademia Nazionale d'Arte Drammatica. After earning a degree in electronics engineering, he returned to acting, making his debut onstage as Puck in A Midsummer Night's Dream. After appearing in some Italian films in the mid-1960s, he made his American film debut in The Secret of Santa Vittoria (1969).
The Pizza Triangle (1970) put Giannini in the middle of a love triangle with fellow Accademia Nazionale alumnus Monica Vitti and Marcello Mastroianni. In typical commedia all'italiana fashion, the hijinks are punctuated with moments of great sadness, playing to Giannini's strengths as an actor. Despite some risky choices, including off-screen narration and characters breaking the fourth wall, director Ettore Scola almost walked away with the coveted Palme d'Or at Cannes.
The Black Belly of the Tarantula (1971)
"Giallo", the Italian word for "yellow", has come to be synonymous with Italian erotic thrillers. The term derives from the lurid yellow covers for cheap paperback mystery novels published from 1929 through today, many of them imported and quickly translated for the Italian market. Now, it almost exclusively refers to the stylish thrillers crafted by such highly regarded Italian horror directors as Mario Bava, Dario Argento, and Lucio Fulci.
Shot on location in Rome of 1970, Black Belly of the Tarantula is director Paolo Cavara's entry into the genre. Cavara had already made a splash with his shockumentary, Mondo Cane, a dubious achievement that would later inspire the infamous Faces of Death series. In Black Belly, he shows remarkable restraint while still hitting the trademark notes giallo fans have come to expect.
Giancarlo Giannini is Inspector Tellini, a middle-class working slob of a detective who doesn't seem quite sure he's in the right career. He is called in to investigate the murder of a beautiful socialite and seemingly notorious nymphomaniac, Maria Zani (Barbara Bouchet). The most obvious suspect is her cuckolded husband, Paolo (Silvano Tranquilli), but he's got an alibi, albeit far from airtight.
Tellini has woman troubles of his own. His wife, Anna (Stefania Sandrelli), has already made plans to swap out all of the furniture in their apartment. Like most cinematic cop wives, she finds herself torn between her desire to see her husband succeed and the emotional toll it exacts from both of them.

The title refers to the killer's method. Employing a steel acupuncture needle to induce paralysis, the victim is left conscious but helpless while she is carved up with a gleaming silver knife. The murders are macabre and sadistic, but hardly gory in the modern sense. This is certainly not
Murder, She Wrote
, but neither is it the grotesquery of
Saw
. I'd say you could watch it comfortably with your spouse, but not your mother, if that helps draw the distinction.
As Inspector Tellini becomes entangled in the details of the case, his own career begins to unravel. The killer's trail winds through blackmail plots, a cocaine smuggling ring, a massage parlor, and the reproductive practices of the spider wasp or tarantula hawk, all with Tellini following close behind. Not close enough to save the string of victims, however, a fact that weighs on his conscience like a ship's anchor.
Giannini's performance, a breathy 70s jazzpornscore by Ennio Morricone, and some inventive cinematography make this an enjoyable little thriller. You'll probably figure it out long before the reveal, but getting there is half the fun. Highlights include the private detective known as "The Catapult", Ginetto the waiter, and the smugglers' strategy, as well as Bond girls Claudine Auger and Barbara Bach as the owner and employee, respectively, of the posh spa/massage parlor.

The Films of Lina Wertmüller
Starting with The Seduction of Mimi (1971), Giancarlo Giannini appeared in six of writer-director Lina Wertmüller's films. Mimi (Giannini) is a metalworker asked to rig a local election. Defying the Mafia, he soon finds himself on the run and questioning the value of the life he's leaving behind. This was the first of three consecutive Wertmüller film pairings of Giannini with the striking Mariangela Melato. Wertmüller picked up her first of two consecutive Palme d'Or nominations. The film was remade in 1977 as Which Way Is Up? starring Richard Pryor.
Set in Fascist Italy prior to World War II, Love and Anarchy (1973) is the tale of an anarchist (Giannini) plotting to assassinate dictator Benito Mussolini with the assistance of a pair of prostitutes. Mariangela Melato is Salomè, the more driven of the two. Though she and Tunin (Giannini) share a sexual encounter, it is the love affair between Tunin and Tripolina (Lina Polito) that drives the plot and its inevitably tragic finale. For the second year in a row, a Lina Wertmüller film was nominated for the Palme d'Or, and Giannini won Cannes' Best Actor Award.
The most well-known Giannini/Wertmüller pairing is the intentionally divisive
Swept Away
(1974).
Swept Away
is as much about sexual politics as the ongoing Italian conflict between the proletariat and the bourgeoisie, with Giannini representing both the exploited underclass and the dominant male. Mariangela Melato complicates your sympathies as the equally helpless and thankless, quintessential rich bitch, Raffaella. Giancarlo's son, Adriano, reprised his father's role in the 2002 remake, but was lambasted along with co-star Madonna and her writer-director husband, Guy Ritchie.
In Seven Beauties (1975), Giannini and Wertmüller return to Italy's turbulent fascist years circa World War II. Giancarlo plays Pasqualino, a deserter from the Italian Army who finds himself captured by the Germans and sent to a prison camp where he reflects on the choices and circumstances that landed him there. Seven Beauties is a story of survival and the sacrifices, both physical and philosophical, that people will make to stay alive. Despite being highly controversial, like much of Wertmüller's work, the film was a critical darling, with Giannini earning an Oscar nomination for Best Actor. Wertmüller herself made film history by becoming the first woman to be nominated for Best Director.
A Night Full of Rain (1978) is the first Wertmüller film with original English dialogue, understandable since Giannini is cast opposite Candice Bergen (Carnal Knowledge). Their torrid love affair begins in Rome, follows to San Francisco, and ends violently on the titular night back in Rome. There is some nice subtext with news coverage of what could very well be the literal end of the world, but the unravelling relationship, told in flashback, is the true arc here. Perhaps lost in translation, the film seems to lack the wit and sarcastic whimsy of their previous collaborations, and failed to resonate with critics who found it "lifeless".
Giancarlo Giannini stars opposite the legendary Sophia Loren in the 2001 TV-movie Francesca and Nunziata. He plays an aristocrat who marries into the 19th century pasta empire of Francesca (Loren). Nunziata (Claudia Gerini) is the orphan girl they are forced to adopt to fulfill a vow. When their son, Federico (Raoul Bova), returns and falls in love with his stepsister, things grow even more complicated for the beleaguered family.
Most of Wertmüller's films have long, unwieldy titles as a trademark, but, in the interests of clarity and brevity, I have used the shorter English versions here. I hope you paisans don't take me too much to task for it.
Giancarlo's Subsequent Projects
Giannini is perhaps best known in America for his role as René Mathis in both recent James Bond franchise entries, Casino Royale and Quantum of Solace. Mathis is an MI6 agent stationed in Montenegro. Bond villain Le Chiffre fingers Mathis as a double agent and his informant, though the evidence proves otherwise as the plot thickens. After being cleared by MI6, Mathis gets a posh retirement in Italy until being drawn into Bond's off-the-books escapades in Quantum.
From police inspectors to secret agents to working class slobs, Giancarlo Giannini remains a compelling presence on screen. Capable of balancing a world-weary melancholy with a joie de vivre, he can elevate even mediocre material with an emotional range that captures the essence of what it means to be Italian. We salute him here at WeirdFlix on his birthday. Many thanks and best wishes always.