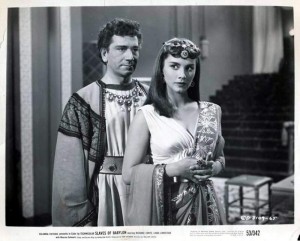 These three words are used to describe William Castle's peplum epic, Slaves of Babylon (1953), in the poster below. Promising to tell the tale of "The last days and nights of mighty Babylon", the film is part of Castle's journeyman era, just a few years before he adopted the Barnumesque promotional gusto that would cement his legacy. Slaves enters the "peplum", or "sword-and-sandal", era early, before Kirk Douglas as Ulysses (1954), Charlton Heston as Ben-Hur (1959), or the countless Hercules and Samson films that would define the genre in the decades to come. The most obvious influence on Slaves is the MGM Technicolor epic Quo Vadis (1951), which became the highest grossing film of the year and earned eight Academy Award nominations.
Today, as part of The William Castle Blogathon, hosted by The Last Drive In and Goregirl's Dungeon, we're going to take a closer look at Slaves of Babylon. Directed by William Castle from a story and screenplay written by DeVallon Scott, Slaves was the second of four collaborations between the two (along with Conquest of Cochise (1953), The Iron Glove (1954), and The Saracen Blade (1954)). It is largely an adaptation of the biblical Book of Daniel, though Daniel (played by the Yiddish Laurence Olivier, Maurice Schwartz) appears only sporadically. The bulk of the narrative is driven by the minor prophet Nahum (Richard Conte), depicted here as a student and contemporary of Daniel.
Richard Conte as Nahum
Richard Conte was discovered by John Garfield and Elia Kazan while working as a singing waiter at a Connecticut resort. While many Hollywood actors were off fighting the good fight in WWII, Conte signed a long-term contract with 20th Century Fox, groomed to be the "New John Garfield". He began his career playing mostly soldiers, but by the late 1940s, he had transitioned to film noir. Conte's Jersey accent occasionally creeps through here as the kingmaker Nahum.
Linda Christian as Princess Panthea
Born Blanca Rosa Welter, Linda Christian was given her screen name by then lover Errol Flynn after Bounty mutineer Fletcher Christian. Flynn convinced her to give up her medical studies and move to Hollywood. She was quickly spotted by MGM head honcho Louis B. Mayer and offered a seven-year contract, nicknamed "The Anatomic Bomb" by the studio. Her best known work before Babylon was Tarzan and the Mermaids (1948), Johnny Weissmuller's last Tarzan film.
Shortly thereafter, she became more famous for marrying actor Tyrone Power than any of her film roles. While they never ended up working together, Christian and Power were offered the leading roles in From Here to Eternity (1953), but Power turned the project down. Eternity would go on to win eight Oscars. Neither Christian nor Power would ever take home that prize.
Linda Christian's Princess Panthea is a bit of a biblical femme fatale, putting her own interests first and foremost and mercurial in her moods and affections. She is a natural seductress and manipulator, a character very much at home in the sword and sorcery fiction of H. Rider Haggard or Robert E. Howard. Unlike most of her ilk (spoiler alert!), she does not suffer from her opportunistic nature, emerging entirely unscathed.
Perhaps because she is a true polyglot, able to speak six languages fluently, Linda Christian's accent fluctuates wildly as Panthea. Most often, it comes across as Shakespearean, with a languid, breathy delivery. At other times, though, she sounds vaguely Eastern European, like a Russian tsaritsa. Your mileage may vary.
Terry Kilburn as Cyrus the Great
Terry Kilburn achieved film fame at a very young age, appearing as Tiny Tim in the MGM production of A Christmas Carol (1938) and four generations of students to the title teacher in Goodbye, Mr. Chips (1939). Throughout the 1940s and into the early 1950s, Kilburn would appear in a wide variety of adventure films, from Swiss Family Robinson (1940) through Only the Valiant (1951) and often as a sailor in swashbucklers such as Song of Scheherazade (1947), Tyrant of the Sea (1950), and Fortunes of Captain Blood (1950). He also played the cub reporter Seymour in four Bulldog Drummond mysteries from 1947-1948.
While 26 at the time of the film's release, Kilburn appears much younger. This helps him portray Cyrus as an uncertain ruler, prone to youthful indiscretions and easily steered by the savvy Nahum. This contrasts rather harshly with most historical accounts that place Cyrus as one of the great military leaders of the ancient world, but Nahum's the star here, the power behind the throne just as Daniel was to King Nebuchadnezzar.
Leslie Bradley as King Nebuchadnezzar
Leslie Bradley had uncredited roles in Prince of Foxes (1949), which would provide footage for Castle's The Saracen Blade (1954), and the highly successful biblical epic Quo Vadis (1951).
Michael Ansara as Prince Belshazzar
Syrian-born Michael Ansara appeared in the western adventure Only the Valiant (1951) with Terry Kilburn and in the Castle peplum Serpent of the Nile (1953) along with Michael Fox, Robert Griffin, and Julie Newmar. Ansara followed Slaves with dramatically more successful biblical epics, taking uncredited roles in the Oscar-winning films The Robe (1953, as Judas) and The Ten Commandments (1959). How do you not credit Judas?
Ansara, in a mere supporting role, practically steals this film away from its stars. His Belshazzar is delightfully wicked, and his line delivery reminded me of an angry William T. Riker (Jonathan Frakes). Ansara would be no stranger to science fiction television, playing Klingon commander Kang in three separate Star Trek series as well as Kane on Buck Rogers in the 25th Century.
Slaves of Babylon (1953)
We open with a reading from the "Book of Daniel", narrated by Michael Fox, who previously appeared in the William Castle pelpum Serpent of the Nile (1953) and who would go on to narrate another William Castle/DeVallon Scott collaboration, The Iron Glove (1954). For the historically and/or geographically challenged, Babylon was located some 53 miles south of Baghdad and was responsible for the destruction of Jerusalem. The titular Hebrew slaves were taken back to Babylon to build the fabled Hanging Gardens (represented here by some gorgeous matte paintings) and the Temple of Bel-Marduk, but they refused to worship at the latter, even under penalty of death.
Daniel, however, has found favor with King Nebuchadnezzar, who relies upon his sage counsel. Prince Belshazzar takes strong exception to his father's tolerance, claiming "He has bewitched you!" and "It is Daniel who really rules Babylon!"
"I rule Babylon!"
"But Daniel sits at your right hand. Why do I not sit at your right hand?"
"Soon you will sit on the throne itself, my son."
Daniel seeks an audience, and while Belshazzar is insulted, his father welcomes the interruption to end their ongoing quarrel.
At the house of Rachel (Ruth Storey), Daniel's rebellious student Nahum finds refuge and a tender kiss while soldiers search for him outside. She urges him to flee Babylon with her, but he refuses to leave Daniel. Daniel himself then enters to tell Nahum he must go to the ruins of Jerusalem, which Nahum has never seen. Afterwards, Nahum must seek a shepherd boy named Cyrus who has the power to overthrow Babylon, but if he never uses this power, Cyrus will die a shepherd. Knowing his pupil's limitations, Daniel urges Nahum to be wise and controlled, as he is. Nahum eagerly takes up this noble quest, leaving Rachel to lament her loss.
Exiting Babylon undetected is no easy feat, however. Nahum recalls a way out from his childhood. Some unexpected underwater photography highlights Nahum's escape, squeezing between bars blocking a conduit to the River Euphrates and the shore outside the city.
In the Kingdom of Media, Nahum makes inquiries about the shepherd boy Cyrus. Stopping to drink at a river bank, he hears a shepherd's flute and wanders over to ask his tired question. He is surprised (but we shouldn't be) to find that he speaks to Cyrus himself.
Cyrus doesn't like strangers, dismissing Nahum out of hand. Nahum won't be so easily turned away, however, and resorts to force to subdue Cyrus. At the shepherd's home, Cyrus's father (Wheaton Chambers) offers hospitality to the visitor from Babylon. Undaunted by propriety, Nahum calls Cyrus' parentage into question and asks his mother (Beatrice Maude) to speak the truth, but is horrified to find she has no tongue.
Cyrus' father knows not how she lost it, and she cannot tell him, but it happened while she was heavy with child and Cyrus' father was off in the mountains. She served in the palace at the time and perhaps insulted someone important. While the menfolk speculate, she produces a woven cloth that tells the story of Cyrus.
Nahum examines it and tells the tale. "The visit from the king's men, the child swathed in royal purple, given to you to expose in the wilderness to die because they were afraid to kill a king's son. Your own child, stillborn. The dead child put out on the hillside, the living child raised as your own, and you could never tell him because of what the soldiers had done to you." This story, as written by Herodotus, is but one of many legends of abandoned children of noble birth returning to claim their royal birthright, putting Cyrus alongside such luminaries as Oedipus the Greek and Romulus and Remus, founders of Rome.
Cyrus wishes to die a shepherd and wants nothing to do with the kingdom of his grandfather, King Astyages, but when Nahum indicates that he would be free to marry whoever he chooses, Cyrus suddenly shows interest.
Nahum has the tapestry brought to Cyrus' mother, Mandane (Ernestine Barrier), as a gift. When she tracks Nahum down, he shows her the Talisman of Mithra that was found around the infant Cyrus' neck. King Astyages orders Cyrus killed, but his daughter stays the execution and spares the boy she now knows to be her only son.
Cyrus is quickly accepted as a prince in the court of Astyages, and Nahum is tasked with teaching the new ruler of Persia the ways of kingship. Before leaving for his new lands, Cyrus wishes to wed the Princess Panthea, but he is skittish about speaking to her and betraying his humble origins. He asks Nahum to play John Alden to his Miles Standish and speak on his behalf instead.
When we are first introduced to Princess Panthea, she is lounging about her luxurious chambers petting her leopard. Sometimes a leopard is just a leopard, I suppose, but the way Linda Christian vamps it up here is captivating. She has only the scantest interest in Cyrus, his title, and his messenger Nahum.
To gild the proverbial lily, Julie Newmar has a brief cameo as our forbidden dancer du jour. Nahum tries to goad the distracted Cyrus into making war on Astyages, even suggesting that Princess Panthea may wed someone else if he waits too long. Suddenly, Nahum catches the dancer by the wrist before she can plunge a blade into the heart of Cyrus. She immediately fingers King Astyages as her employer, convincing Cyrus to give the attack order against his own grandfather.

"You will never find one who will make you forget Panthea."

Best known as Catwoman in television's
Batman
starring Adam West, Newmar was still going by her birth name of Newmeyer when she played the would-be assassin. Earlier that same year, she had been a feature dancer clad in gold paint for the William Castle peplum
Serpent of the Nile
(1953) and later in the widely panned sequel to
The Robe
,
Demetrius and the Gladiators
(1954).
The campaign goes poorly for Cyrus, and in the very first battle, he is saved from certain death by Nahum. He swears to reward Nahum with whatever he desires, but Nahum insists he will only redeem his wish once Babylon is taken. Cyrus can't see that happening any time soon, since he's lost three battles in a row to his grandfather.
In Babylon, King Nebuchadnezzar has been pressured into making a decree that anyone who prays to a deity other than Bel-Marduk for the next thirty days will be thrown into a den of lions. Daniel, predictably, defies this order and is arrested. He is taken into custody peacefully, even when stoned in the streets by angry mobs.
King Nebuchadnezzar begs Daniel to pray to Bel-Marduk. When Daniel refuses, Nebuchadnezzar tells him that he has doomed himself. "Release the lions. We will return at daybreak."
When Nebuchadnezzar returns, the lions are lying around Daniel, docile. The guard thinks it a trick, so Nebuchadnezzar shoves him into the cell to be devoured. During his time with the lions, Daniel has had an epiphany and now knows how to help Cyrus.
Back in Media, Nahum tells an envoy from King Astyages that tomorrow, at the ninth hour after sunrise, the entire world will grow dark unless Astyages' men throw down their arms. During the battle, a solar eclipse vindicates the prophecy, presumably delivered to Nahum by Daniel but historically attributed to Thales (an opponent of Cyrus) and the King of Lydia. The soldiers of Astyages drop their weapons in fear, and Astyages surrenders his throne to his grandson. Cyrus spares his grandfather's life but reduces him to a lowly shepherd.
Nahum tries to keep Cyrus hungry, but the young king is done with conquest and just wants his Panthea. Princess Panthea receives Nahum, but says she's not interested in him, the throne of Persia, or Media. When Nahum offers the throne of Babylon, that finally piques her interest. Rather than offer up the hand of Cyrus as was requested, Nahum claims that Daniel will spread word in Babylon of Panthea's beauty, intriguing Prince Belshazzar into arranging their marriage.
Meanwhile, Belshazzar is busy burning Hebrews, but they walk out of the flames unscathed. This is a dramatization of the tale of Shadrach, Meshach, and Abednego, though the men are unnamed here and it is the cruel Belshazzar not Nebuchadnezzar who orders the execution. Neither are the guards burned who cast them in. It is perhaps the weakest of the miracles depicted in the film and should really have been given more oomph than some cheap rear projection.
Cyrus is angry that Nahum has not disbanded the army as commanded. Before it can be done, Nahum reveals that Panthea is en route to Babylon to be betrothed to Belshazzar. As Nahum cheekily gets ready to disband the army, Cyrus stops him, now wanting to march on Babylon.
Cyrus' forces intercept the caravan of Panthea, and she consents to be his queen, but only if he succeeds in taking the throne of Babylon, a kingdom worthy of her stature. Cyrus entrusts Nahum to escort Panthea safely behind his army, but warns that if she complains about his stewardship, it will mean his death. Sounds like nothing could go wrong there, right?
Nahum confronts her in her pavilion, angry that she did not wait in Tarsus as instructed, but she has clearly seen through his scheme and is working her own angle now. "Cyrus or Belshazzar… I must win with either. You must lose with both."
Over the five-day journey to Babylon, she tries to seduce him and is surprised to find that this well-spoken statesman used to be a slave. He tells her stories of his people, such as that of Ruth and of Joseph, Son of Jacob. This seems to satisfy her need for attention and affection… for now.

As King Nebuchadnezzar grows senile and enfeebled, Belshazzar believes that his father has been bewitched by Daniel. Nebuchadnezzar seeks forgiveness from Daniel, who passes this request along to God, and the stricken king receives clarity of thought briefly before expiring. Belshazzar walks in to find his father dead at Daniel's feet. Before he can act, word arrives that Cyrus has reached the city walls with his vast army.
Belshazzar shouts from the walls, telling the Medians that they will starve during a siege while his people eat heartily from their stockpiles of food. "Babylon will live forever under the protection of the all-powerful god, Bel-Marduk!"
Elsewhere, Panthea dances seductively for Nahum, eventually coming to rest her chin suggestively on his thigh. After he tells her the tale of Joseph, they kiss. "In all my life, they taught me only one thing, that I should one day be a queen, but I want to be a woman… with you." Nahum spurns her advances just as Cyrus walks in, seeking his counsel. Without explaining her ire to Cyrus, she angrily vows to decide Nahum's fate after Babylon has been taken.

Inside the city, Belshazzar is warned about the danger of the slaves, who might open the gates to the invaders, and is encouraged to put them all to the sword. Rather than spark open revolt in the streets, Belshazzar tells the Hebrews that they are free to return to Jerusalem by the east gate that night.
Daniel interrupts Belshazzar's revelry to ask for the return of the sacred vessels from the temple at Jerusalem. Belshazzar and his advisers mock this humble request. The sacred vessels are brought to Belshazzar, who, along with his general, drinks wine from them. Inexplicably, a spectral hand writes out Hebrew script (right to left, as is proper), the oft-cited "writing on the wall", shocking all in attendance. Daniel translates it into a long prophecy of doom for Belshazzar.
Clearly rattled, Belshazzar responds with vicious bravado. "It is not I that am doomed, but your people, all of you. Even now they are being destroyed."
This is no idle threat, as the departing Hebrews have been trapped in a high-walled ravine where the surrounding brush is set alight by the Babylonians, leaving the Hebrews to burn to death. A sudden, miraculous rain spares them, but Belshazzar does not know that, and he proclaims Daniel's god false.
Outside, Nahum suggests that Cyrus' men use cover of night and fog to re-enter the city through his escape path, the river gate. Before Belshazzar can slay Daniel, a thrown spear buries itself in his back, cast by brave Nahum. The forces of Babylon, sodden with wine, spiritually shattered, leaderless, and taken unawares are summarily defeated.
Victorious, Panthea broods on the throne of Babylon alongside King Cyrus. Cyrus announces that he is ready to redeem his two vows, one to Nahum, the other to Panthea. Nahum regifts his favor to his mentor Daniel. Daniel asks for freedom to return to Jerusalem with his people.
Panthea decides Nahum's fate. "Yes, he shall die… but in his own land, surrounded by his brothers. For your god will surely visit you and bring you out of the land of exile back to the land of your fathers, and from this day on you shall never again look on Babylon."
Leaving Babylon forevermore, Nahum is reunited with Rachel, his one true love, and they wend their way toward a distant rainbow. And Jerusalem knew happiness and peace for the rest of days. Well, not really, obviously, but that's "THE END" for now.
Savage? Sinful? Spectacular? Sadly, no.
Tame. Tepid. Tolerable. All would be better descriptors. William Castle's direction is competent but lifeless. The various miracles depicted in the film are given little to no weight, the score doesn't swell, and the actors mostly respond as if it's just another day at the office, especially the Hebrews walking out of the furnace and, presumably, directly toward craft services.
Still, it's not a terrible film by any stretch, and as far as adaptations of the Book of Daniel go, I'm sure you can find far worse. Certainly, it's not enough to scare me away from tackling another William Castle/DeVallon Scott collaboration in two days' time, their last, The Saracen Blade (1954). Hopefully you won't be scared off as well and will return to check out Ricardo Montalbán buckling his swash.
Be sure to click the banner above for more of The William Castle Blogathon, hosted by The Last Drive In and Goregirl's Dungeon. Castle was a prolific director, and with five days of coverage and dozens of participating blogs, there's sure to be something for everyone. Until next time…
"I created the peplum so you can eat in it.
You can have a dessert, you can have another sandwich."
– Fashion designer Alber Elbaz in 2012
Pretty sure the ancient Greeks invented the peplum. Just sayin'.