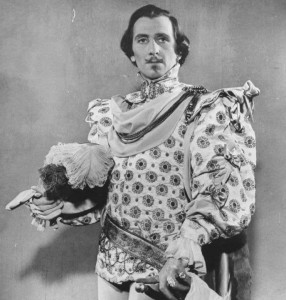 Today is Day Two of the Peter Cushing Centennial Blogathon and, more properly, the birthday of this beloved actor. Here at WeirdFlix, we'll take a quick look at the long and storied career that made him such a celebrated film icon.
Peter Cushing was poised to follow in his father's footsteps as a surveyor when he accepted a scholarship to the Guildhall School of Music and Drama. After working as an assistant stage manager to the Worthing Repertory Company, he made his stage debut in 1935′s The Middle Watch. By 1939, he was ready to depart for Hollywood and try his hand in film, debuting in James Whale's The Man in the Iron Mask (1939). Cushing worked with director Whale one more time in They Dare Not Love (1941), but Whale's most famous film, Frankenstein (1931), would clearly have a greater impact on Cushing's career to come.
Hamlet (1948)
Hamlet was Sir Laurence Olivier's follow-up film to his own Henry V of a few years prior. Henry V was the first commercially successful film adaptation of Shakespeare, and earned Olivier an Honorary Award from the Academy after being nominated but snubbed for Best Picture and Best Actor. Hamlet, in which Olivier would also star as well as direct, was not so easily overlooked, being awarded both Best Picture (the first British film to receive that honor) and Olivier's only Best Actor Oscar.
In his first major film role, Peter Cushing plays the foppish Osric, a courtier dispatched to invite Hamlet to a duel against Laertes. Osric's verbal sparring with Hamlet brilliantly foreshadows the fencing match itself. As Cushing's Osric looks on, Hamlet and his nemesis cross swords, but there is a fourth party present who would eventually figure heavily in Cushing's life and films. Christopher Lee stands sadly mute as a spear carrier in the scene, sharing the screen with Cushing for the first time.

Hammer Films
With a few notable exceptions, such as the period pieces The Black Knight (1954) and Alexander the Great (1956), Cushing spent most of the 1950s back home working for the BBC on the telly. A star performance in Nigel Kneale's adaptation of the George Orwell dystopian sci-fi classic Nineteen Eighty-Four (1954) received particular acclaim. During this same period, London-based Hammer Films was making a name for itself with science fiction and horror films, starting with a 1955 feature film adaptation of Kneale's BBC television serial The Quatermass Experiment (1953).
After a number of production woes, Hammer Films sought out Peter Cushing for their Frankenstein project, now titled The Curse of Frankenstein (1957). Christopher Lee was cast not so much for his acting chops, but for his towering 6′ 5″ frame. Universal fought to keep Hammer from using any aspects of the James Whale/Boris Karloff version, so much more focus was placed on Cushing's Baron rather than the monster. We'll take a deeper look into Cushing's dread Baron tomorrow as we'll spend the rest of this blogathon discussing and dissecting his six turns as Doctor Frankenstein for Hammer Films.
With a budget of only £65,000 (about $270,000), The Curse of Frankenstein grossed nearly £2,000,000 (about $8,000,000) despite scathing reviews and critical outrage. Hammer went back to the well a year later, re-teaming Lee and Cushing as Count Dracula and his nemesis, Van Helsing for Dracula (1958) (Horror of Dracula in the U.S.). The Mummy followed in 1959 with Lee vs. Cushing once again, and the era of Hammer Horror had well and truly begun.

Perhaps one of the strangest Lee/Cushing Hammer films was
The Hound of the Baskervilles (1959). Though Cushing was an ardent fan of Sherlock Holmes and the film was far more faithful to Arthur Conan Doyle's stories than previous efforts, it received only mixed reviews from critics. Nonetheless, Cushing went on to play Holmes for 16 episodes of the BBC television series and again in Sherlock Holmes and the Masks of Death (1984), his penultimate film.
Cushing and Lee became fast friends. They would work together on 23 films in all, most often as bitter rivals. This includes The Devil's Agent (1962), where Cushing's scenes were cut, and their minor collaborations pre-Hammer.
"He really was the most gentle and generous of men. I have often said he died because he was too good for this world." — Christopher Lee
Later today, we'll look at the latter years of Peter Cushing's career, from nearly a decade of horror anthologies (1965 – 1977) to Star Wars to a team-up with three other fright flick legends. Please join us, and be sure to check out some of the other tributes to Mr. Cushing elsewhere around the web by clicking on the badge above. Thanks to Frankensteinia for hosting this wonderful celebration of a life lived and loved.